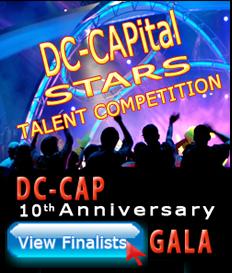 Check out DC's top talent. After a three-week competition, your votes helped determine our 10 finalists for the 10th anniversary student talent competition.
On Monday, April 6, The District of Columbia College Access Program (DC-CAP) will hold its 10th Anniversary Gala Celebration, featuring the finalists of the DC-CAPital Stars Talent Competition, at The John F. Kennedy Center for the Performing Arts. Since 1999, DC-CAP has helped to double the number of D.C. public and charter high school students who enroll in college and nearly tripled the number who graduate.
About the program: DC-CAP , a non-profit organization funded by Washington-area companies and foundations, encourages and enables D.C. public high school students to enter and graduate from college. With corporate and foundation support, DC-CAP provides assistance to those students who might otherwise never have the opportunity to attend and graduate from college by providing the following:
Individual and group counseling
College information resource centers
College application assistance
Financial aid assistance
Parent education
College student support services
"Last dollar" award scholarships
All D.C. public high school students are eligible for DC-CAP assistance and support. The program, located in the heart of the District, also places on-site advisers throughout the city's school system to provide on-going counseling with regard to the importance of higher education as well as financial aid information.
Community
NBC4 and our sister station, Telemundo 44, are #Working4You in our communities in D.C., Maryland and Virginia.
DC-CAP will work with D.C. public high school graduates for up to five years after high school graduation to make sure they are able to complete their college education. Each year, DC-CAP college retention advisers will assess the student's academic progress and financial resources, and then help them plan (academically and financially) for their next year of college.