Metro Releases New Map Featuring Silver Line
Silver Line website launched
Thursday, Sep 12, 2013 | Updated 5:21 PM EDT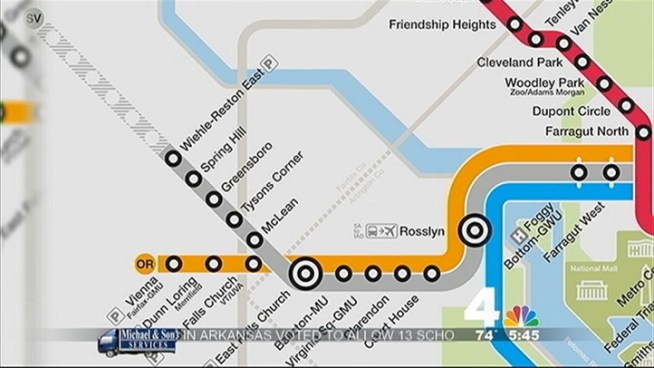 We are getting our first look at Metro's new rail map before it is set to be unveiled later Thursday. Transportation reporter Adam Tuss was able to obtain a copy from the transit system. News4's Tony Tull gives you a closer look.
The region is getting its first look at a new Metro rail map featuring the upcoming Silver Line.
Metro also launched a website for the Silver Line featuring service details, destinations and partner information.
The Silver Line will take riders all the way to Dulles and parts of Loudoun County when it's completed in mid-2014.
According to a recent survey by Metro, though, about 45 percent of area residents are aware of the Silver Line.
The Silver Line will branch off from the West Falls Church station on the Orange Line in Virginia. It's set to roll out in two phases.
Phase one -- which is expected to be completed early next year -- includes five new above-ground stations: McLean, Tysons Corner, Greensboro, Spring Hill and Wiehle-Reston East.
The new map shows those stations as completed.
Phase two is set to open in mid-2014, with an additional six stops. That area of the Silver Line is shown on the new map as under construction.
Metro expects about 17,000 new riders on any given weekday once it opens.