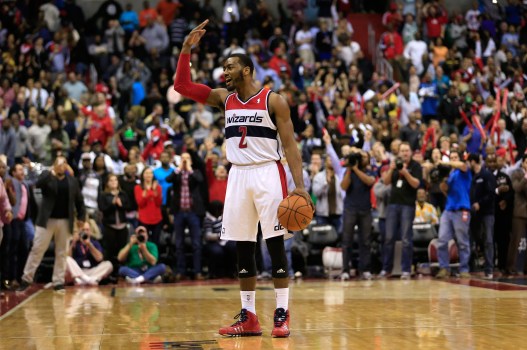 Getty Images
The Washington Wizards, up 2-0 in their best-of-seven first-round series against the Chicago Bulls, will host their first home playoff game in nearly six years Friday evening.
Washington has history on its side; NBA teams are 16-3 in series after winning the first two games on the road like the Wizards did this past week.
Also working in the Wizards' favor is their record playing in front of sold-out crowds. Game 3 happens to be sold out, the fifth sellout of the season at Verizon Center.
In the previous four games, the Wizards are 4-0:
Jan. 15 v. Miami Heat -- 114-97 victory
Feb .1 v. Oklahoma City Thunder -- 96-81 victory
March 15 v. Brooklyn Nets -- 101-94 victory
April 14 v. Miami Heat -- 114-93 victory
All fans in attendance will receive shirts depending on their seating level: red for the 100 level, white for the 200/300 levels and blue for the 400 level. It should look a little something like this:
There will also be an opening light show and a selfie contest (which I would crush, by the way). Download the Wizards official smartphone application to participate in the pregame festivities. For those looking for tickets, they are available on StubHub starting at $115.
Guard Bradley Beal said that he expects the crowd to be "electric" Friday, which is hard to argue with considering the immense support of the team on Twitter.
Doors open at 7 p.m. for the 8 p.m. tipoff.
---
Follow Adam on Twitter @AdamVingan and e-mail your story ideas to adamvingan (at) gmail.com.