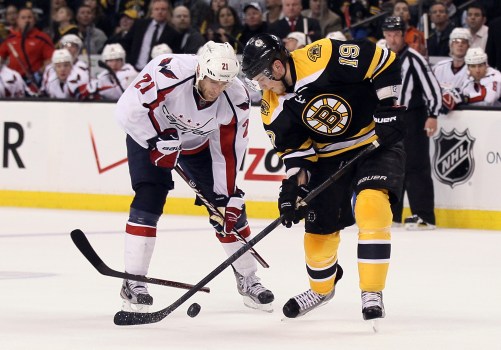 Getty Images
BOSTON, MA - APRIL 12: Tyler Seguin #19 of the Boston Bruins tries to keep the puck from Brooks Laich #21 of the Washington Capitals in Game One of the Eastern Conference Quarterfinals during the 2012 NHL Stanley Cup Playoffs at TD Garden on April 12, 2012 in Boston, Massachusetts. The Boston Bruins defeated the Washington Capitals 1-0 in overtime. (Photo by Elsa/Getty Images)
The Boston Bruins had the day off Tuesday after their hard-fought 4-3 win over the Washington Capitals in Game 3 of the Eastern Conference Quarterfinals Monday, so they had time to explore D.C.
While forward Tyler Seguin was doing so, he received an omen from up above:
As weird as it sounds, being pooped on by a bird is thought to be a sign of good luck.
Crap.
---
Adam Vingan is co-founder and editor of Kings Of Leonsis, a Caps-centric blog, and is the Capitals Editor for SB Nation. Follow him on Twitter @Adam_KOL and e-mail your story ideas to adamvingan (at) gmail.com.