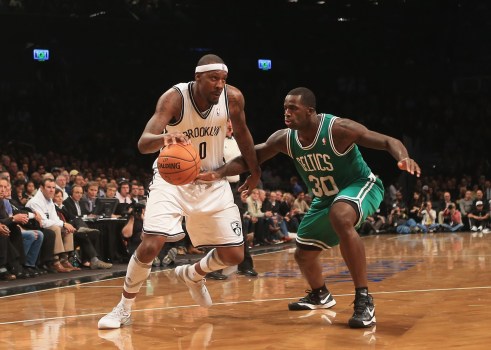 Getty Images
Even after robbing them blind, Andray Blatche apparently still feels slighted by the Washington Wizards.
According to NBA.com's John Schuhmann, the Brooklyn Nets forward teased his former team upon entering the locker room for the Nets' game against the New York Knicks:
We all had a good laugh, but it was after the game -- a Brooklyn 96-89 overtime victory -- that Blatche continued his diatribe.
On a side note, @suckmybaltche is a fantastic Twitter handle.
Moving on, some may empathize with Blatche. As he said in his incomplete tweet, he believes that the Wizards gave up on him and now he is on a winning team (Brooklyn is 9-4) and contributing (he is averaging about eight points and five rebounds per game). Talk about schadenfreude. Just don't ask Blatche to spell it.
Yet, then you remember that he is a professional athlete who had to be shut down by his own team because he was out of shape, so then you don't feel so bad anymore.
As for that incomplete tweet, I think what Blatche was trying to say is that "no body n that organization tried to help me with setting up 'Lapdance Tuesday.'" Don't front, Andray. We know you remember.
---
Follow Adam on Twitter @AdamVingan and e-mail your story ideas to adamvingan (at) gmail.com.