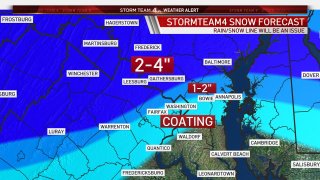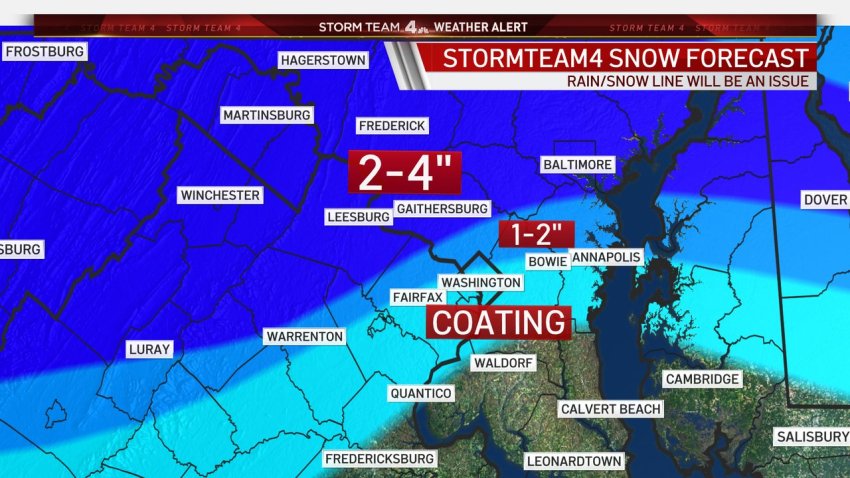 What to Know
Upper Montgomery and Frederick counties and west of Dulles into the Shenandoah are the areas expected to see the biggest impacts
Areas east and south of D.C. may just get rain
Stay with Storm Team4 for updates
A wintry mix hitting the D.C. area tonight will continue through Tuesday morning. The most snow will fall through 10 p.m.
Storm Team4 says the D.C. area can expect about two inches of snow and most snow will accumulate in grassy surfaces.
The areas that should see the biggest impacts are upper Montgomery and Frederick counties and west of Dulles International Airport into the Shenandoah Valley.
Storm Team4 has declared a Weather Alert for both Monday and Tuesday.
Fauquier County Public Schools announced an early dismissal Monday. Public schools in Frederick County, Virginia, will have virtual learning only. See all school closings here.
Local
Washington, D.C., Maryland and Virginia local news, events and information
Not everyone in the region will get impactful winter weather. As is so often the case, areas north and west of D.C. are more likely to see snow, sleet or ice. The District, the immediate suburbs and areas south toward Fredericksburg and east toward the Chesapeake Bay will get almost entirely rain.
A winter weather advisory begins Monday afternoon for areas including Montgomery, Howard and Frederick counties in Maryland, and Fauquier and Loudoun counties in Virginia. Portions of western Maryland; central, northwest and western Virginia; and eastern West Virginia are under a winter storm warning. (Go here to see all severe weather alerts from the National Weather Service.)
The later into the night it gets, the more warm air will be brought into the storm. This will lead to snow changing to sleet and eventually back to all rain before finally ending at about noon Tuesday.
Some flurries are possible Thursday morning with our next chance of more significant winter weather possible Sunday into Monday, so stay tuned.
Stay with NBC Washington and Storm Team4 for updates.