The heat wave in the D.C. area continued Monday, but severe storms moved in to cool things off. Storm Team4 was in Weather Alert mode. 
Damaging winds and heavy rain were the biggest threats. Flooding is also a concern.
Severe thunderstorm warnings and watches were issued for parts of the area. A flash flood watch was issued for St. Mary's County. Go here to see all weather alerts from the National Weather Service.
D.C. operated under a heat emergency, which the District government declares when the temperature or heat index reaches 95°. Cooling centers were open. Go here for a map.
10-Day Forecast in DC, Maryland and Northern Virginia
We're looking at several days of unsettled weather, with rain possible every day of the workweek. We'll get some much-needed relief from the heat on Tuesday, with high temperatures dipping to 80. 
Temperatures will climb up to the high 80s on Wednesday, low 90s on Thursday and back down a little to the high 80s on Friday.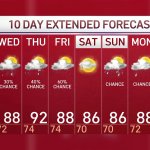 We're looking at temperatures in the mid-80s to high 80s on Saturday and Sunday, with a chance of rain Sunday.
Stay with Storm Team4 and NBC Washington for updates on the forecast.