4 Things to Know About the Weather:
Temps in the 40s
Sunday: winter-like sunshine, dry, brisk
Unsettled pattern next week
More rain temps up and down thru mid-week
A cold front advances after sunset turning our wind to the Northwest and bringing a rapid end to the rain – and the warm temps. Sunday will be cold and dry with temperatures starting out around the freezing mark. Sunday afternoon will be cold but quiet with highs near 45°. The latest forecast trend for next week is far more unsettled. What looked to be a mainly a Tuesday rain chance is now showing signs of arriving late Monday and, perhaps, hanging around into Wednesday.
Best day to get your Christmas tree will be Sunday.
SUNDAY:
Sun and Clouds
Colder
Light Wind
Wind: Variable 5 mph
Chance Of Rain: 0%
HIGHS: 45° - 50°
MONDAY:
Mostly Cloudy
Chilly
Few Late Day Showers
Chance Of Rain: 30%
Wind: Southeast 5-10 mph
HIGHS: 48°- 52°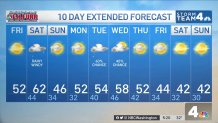 Stay with Storm Team4 for the latest forecast. Download the NBC Washington app on iOS and Android to get severe weather alerts on your phone.