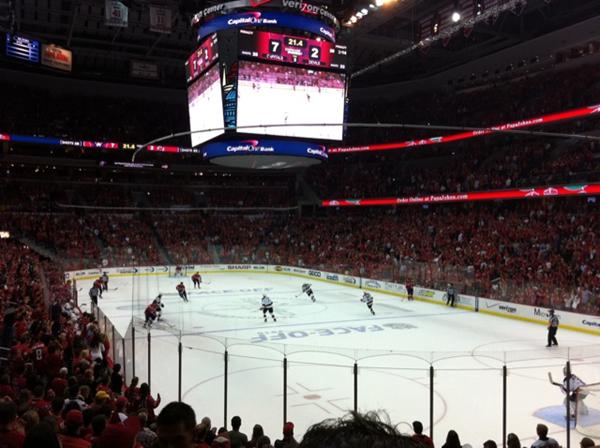 It's back to black for the Caps' netting at the Verizon Center.
The white safety netting that caused such a stir at Monday's pre-season game will be changed back to the black version used all last season.
We spoke with Kurt Kehl, Sr. V.P. of Corporate Communications for Monumental Sports, on Tuesday morning and Kehl expressed genuine concern over the fan reaction and assured us that the team had a plan
During the day Tuesday, team executives assessed the netting in both real light and on camera. After taking a look, they decided that the white netting was indeed negatively affecting the fan experience.
Ted Leonsis told fans the good news on his blog late Tuesday afternoon:
We took a closer look at the Verizon Center protective netting today, and it clearly isn't what we had anticipated. It hinders the fan experience and it is not an asset to our local rights holder, Comcast SportsNet. Therefore, starting with Friday's preseason game, we will reinstall the black netting that had been used last season. We were attempting to improve the arena and television viewing experience, but we fell short of that mark.
It's a perfect example of a team that really listens to their fans and reacts quickly and appropriately.
We hope other team owners and execs are paying attention.
Questions, comments or tips? Email Sarah at sarahskogod@gmail.com. You can also follow her on Twitter (@sarahschorno).