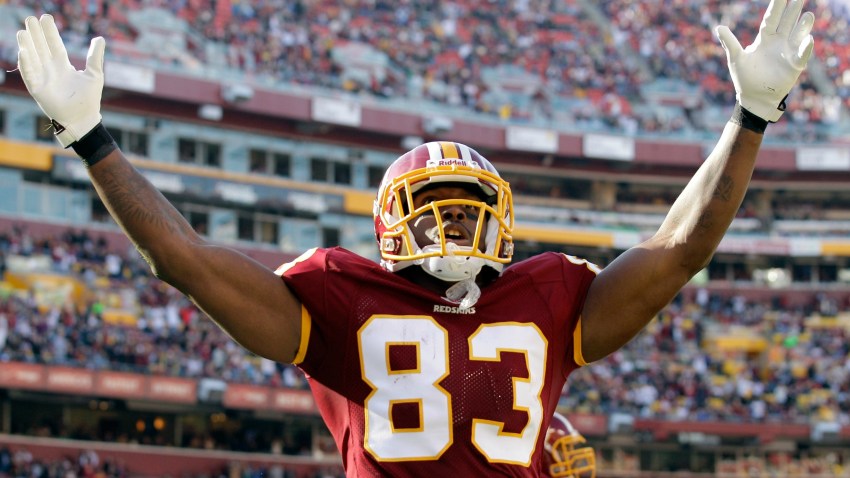 An already difficult season for the Washington Redskins is getting worse: Left tackle Trent Williams and tight end Fred Davis are expected to be suspended by the NFL for the last four games of the season for violating the league's substance abuse policy, two people with knowledge of the situation told The Associated Press.
The people spoke Sunday on condition of anonymity because no official announcement had been made.
Williams, the No. 4 overall draft pick in 2010, and Davis, a second-round choice in 2008, are both starters for the Redskins, who fell to 4-8 with a 34-19 loss to the New York Jets on Sunday. Davis had six catches for 99 yards, both game highs.
Asked after the game about the pending suspensions, Redskins coach Mike Shanahan said: "Well, No. 1, I've received no information about it, so I can't comment on that at this time. But I will comment in the next day or two, depending on exactly what has happened."
Neither Williams nor Davis was in the locker room when reporters were allowed to enter. Their lockers were cleaned out by team employees.
SI.com first reported Sunday that Davis and Williams would be punished. Citing an unidentified source, the website also said the players hadn't received written notice from the NFL about their suspensions, so were able to play Sunday.
A league spokesman declined to discuss the matter.
But one of the people who spoke to the AP on condition of anonymity said Williams and Davis were among 11 players who failed drug tests during a lockout-related grace period negotiated between the NFL and the players' union. The other nine players' cases were dismissed because they were first-time offenders; Davis and Williams each has tested positive more than once, the person told the AP.
Their Redskins teammates were hesitant to comment because nothing official has come out.
"It's tough to play without those guys," cornerback DeAngelo Hall said, emphasizing that he wasn't aware whether reports about Williams and Davis were true. "But somehow, some way, we will. … Obviously we're better with those guys."
Davis leads the Redskins with 59 catches for 796 yards, taking over as Washington's top tight end even before past Pro Bowl pick Chris Cooley was lost for the season with a left knee injury. Williams is generally considered the top offensive lineman on the team, which has lost seven of its last eight games after opening the season 3-1.
The resolution of the punishments was delayed in part by the case of Cincinnati Bengals running back Cedric Benson, which also is connected to the union-negotiated grace period.
Benson originally was expected to get a three-game suspension for off-field conduct, but it wound up as two games based on the grace period for discipline. Benson's representative said the player shouldn't have received any punishment and filed an unfair labor practices complaint against the union, a complaint that was dismissed last week.
Benson wound up with a one-game suspension.
AP Sports Writer Joseph White and AP Pro Football Writer Barry Wilner contributed to this report.
Copyright AP - Associated Press