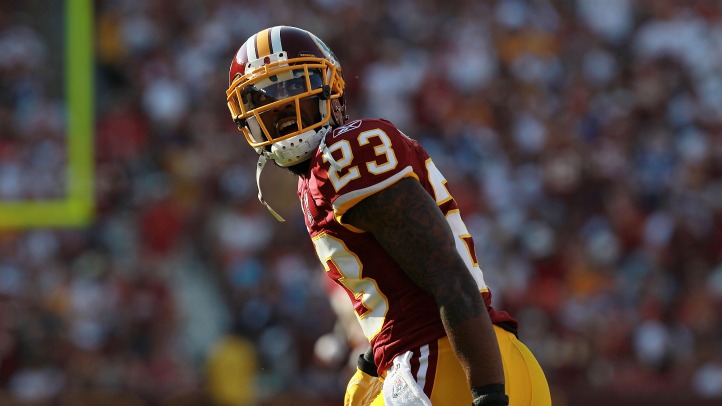 This offseason the Redskins took it upon themselves to reconstruct a secondary that gave up more than 4,000 yards through the air and finished 31st in pass defense.
Given the ever-increasing emphasis on throwing the football, they couldn't have picked a better time to upgrade. In fact, the passing game has been taken to such a completely new level in 2011, the additions of Oshiomogho Atogwe and Josh Wilson have to be two of the most crucial signings of the offseason.
Just two years after a record 10 quarterbacks threw for 4,000 yards or more, the NFL average for passing yards a game is still rising. The league average in 2010 was 221.6 yards per game -- this year it's 261.3. Despite the upward trend, the Redskins secondary has drastically improved in their second year in Jim Haslett's system.
They rank 15th against the pass, and have allowed just two touchdowns in their first three games. In addition, Washington has given up 21.4 fewer passing yards per game than last season. They are also 21 yards under the league average, and with LaRon Landry finally back in action after a lengthy absence, those numbers might even continue to climb.
"You saw it in pieces on Monday night," Atogwe said. "When you finally have us all working together and jelling together, it's just going to continue to be a dominant force out there. That's what we envisioned at the beginning of the season back in training camp, and that's what we are going to work to put out there on the field."
There have been some lowlights. DeAngelo Hall blew coverage on a back-breaking third-and-21 conversion and Larry Fitzgerald pulled off a 73-yard touchdown catch in Week 2. The big plays are certainly a concern, but that's all part of a defensive transition in the making.
"We've given up a couple big plays and that can be the difference between being a top-five defense and maybe 15th," said Adam Carriker. "If you can stop those big plays that's what makes you a top defense [and] that's something we need to work on."
The secondary isn't the only factor in the team's performance against the pass. Washington's pass rush has kept quarterbacks on their toes with eight sacks, putting them on pace to total 42 sacks this season. They had just 29 in 2010.
Outside linebackers Ryan Kerrigan and Brian Orakpo have combined for 17 tackles, 2.5 sacks, two forced fumbles and an interception while the defensive line already has four sacks after getting to the quarterback a mere 8.5 times in 2010.
With playmakers up front and a renovated secondary, it's not surprising that Haslett has upped the tempo defensively. The defensive coordinator has been extremely aggressive, showing off a variety of formations to generate pressure on opposing quarterbacks. Thus far, he's experienced enough success to worry this week's potential victim, Sam Bradford.
"The Redskins do pressure quite a bit and they do a great job," the St. Louis Rams quarterback said. "They throw a lot of different looks at you behind their pressures. It's not like they play the same coverage behind their pressures every time."
Atogwe will be making his return to St. Louis on Sunday and expressed a desire to make strides after what has been a quiet start to his season.
"I wouldn't say I've played out of this world," he said. "That's the type of standard I set for myself, really playing above what other people expect of me. I feel like I'm getting comfortable in the system, getting comfortable with the players around me, and as we continue to grow as a defense, I know my play will excel and continue to be what I envision it to be."
Teammates are buying into Atogwe's high expectations and with each passing week the prevailing sense is the defense is on the verge of entering the discussion as one of the top units in the league. Obviously, they realize it won't happen overnight, yet the level of commitment from each and every one of Haslett's players suggests they are closer than originally anticipated.
"We're really growing as a defense," said Orakpo. "We can only get better [and] I'm excited to be a part of it."