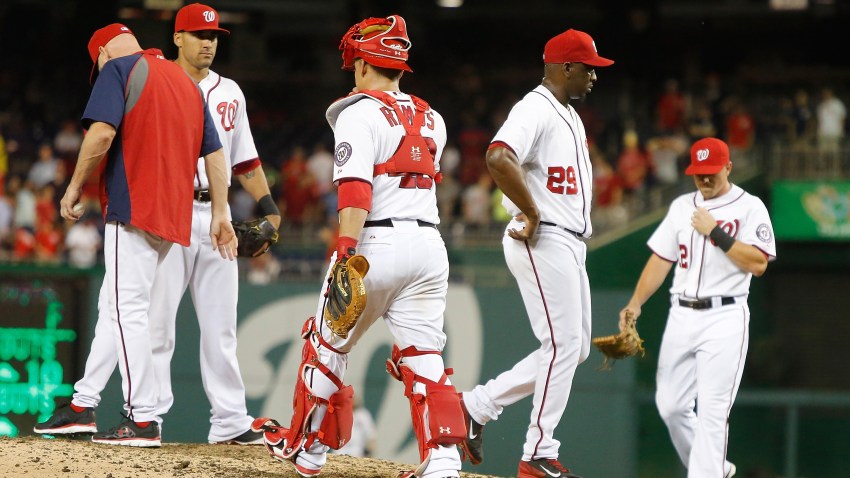 The Nationals led the Phillies by three runs entering the ninth inning Friday when manager Matt Williams summoned closer Rafael Soriano from the bullpen. And a fan base became queasy.
Any uneasiness was justified Friday evening when Soriano allowed two home runs in the bottom of the ninth, allowing Philadelphia to tie the game and ultimately win in extra innings by a 9-8 score. It was Soriano's second blown save in as many chances and his fifth in his past 21 appearances. He was booed off the field.
Earlier in the day, Williams said during his weekly radio appearance on 106.7 The Fan that Soriano has "plenty of rope" as the team's designated closer. That tune changed following the game.
"We need to address it," Williams told reporters via AP. "It's not an easy decision, none of them are, but we want to be able to close those games out. Sori understands that; he's been around the block."
Williams informed the media Saturday that Washington will utilize a closer-by-committee approach while Soriano works out his mechanical issues.
"We'd love him to be back to form and be able to shut down the ninth inning for us," Williams told reporters. "He's been that all year. But he also realizes there's been an issue with getting guys out recently. He's got to work on that. We're going to help him as much as we can."
Drew Storen, Tyler Clippard, Matt Thornton and Ross Detwiler are all options.
Prior to the All-Star break, Soriano boasted a 0.97 ERA with just two blown saves while holding opponents to a .153 batting average.
Since the All-Star break concluded, his ERA and opponent batting average have ballooned to 6.98 and .325, respectively. His five blown saves are the most in the majors over that span.

---
Follow Adam on Twitter @AdamVingan and e-mail your story ideas to adamvingan (at) gmail.com.