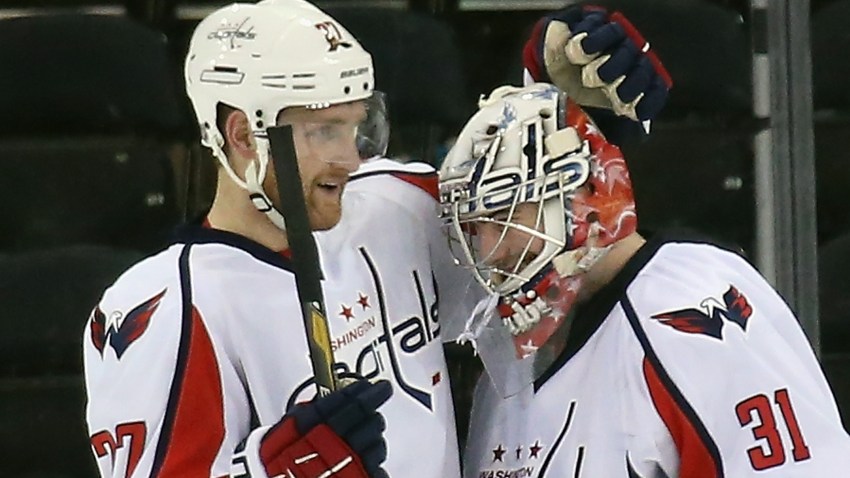 According to Washington Capitals goaltender Braden Holtby, when facing the New York Rangers, "you've got to expect the unexpected at times."
Those words rang true on Sunday at Madison Square Garden. Conventional wisdom seemed to suggest that Holtby, less than 24 hours removed from a 34-save performance in Washington's 5-2 victory against the Nashville Predators and battle-tested against the Rangers, would start, but the coaching staff elected to start rookie Philipp Grubauer instead, informing him of the decision on Saturday evening.
In the 22-year-old, the Capitals' coaching staff knew they had a kid that was eager to make an impression at the NHL level, and Grubauer rewarded their faith with a nearly flawless performance at what he called "the most historical building," stopping 30 of 31 New York shots and earning his first career victory in Washington's 4-1 win.
"I would be lying if I said I wasn't nervous," Grubauer said as an uncontainable smile engulfed his face. "it's the biggest stage here, Madison Square Garden. I had a lot of fun."
Through nearly the entire game, Grubauer stymied the Rangers at every turn, and it took a Benoit Pouliot deflection goal with less than two minutes remaining -- one that required a review to uphold -- to spoil his shutout bid. Grubauer exuded poise beyond his 22 years, which was only buoyed by a complete performance in front of him.
"I've got to give those guys in front of me a lot of credit," Grubauer said of his teammates, who blocked 17 shots and kept the Rangers from mustering any sort of sustained pressure. "I feel like [the Rangers] didn't have those chances in front of the net, [the Capitals] kept it pretty much to the outside which was great for me. They helped me out. They cleared everything out and they talked to me...even the forwards, credit to everybody it was an amazing job by everybody."
Even though most of the Capitals had little experience playing with Grubauer, they felt instantly confident in his ability, which only speaks to the faith that they have in him.
"He played fantastic," said defenseman Nate Schmidt, who played with Grubauer with the American Hockey League's Hershey Bears in the latter stages of last season. "He just pretty much swallowed up every shot they had, they didn't really have second-chance opportunities and that's a huge thing for a goaltender coming in, especially in a road game."
---
Follow Adam on Twitter @AdamVingan and e-mail your story ideas to adamvingan (at) gmail.com.