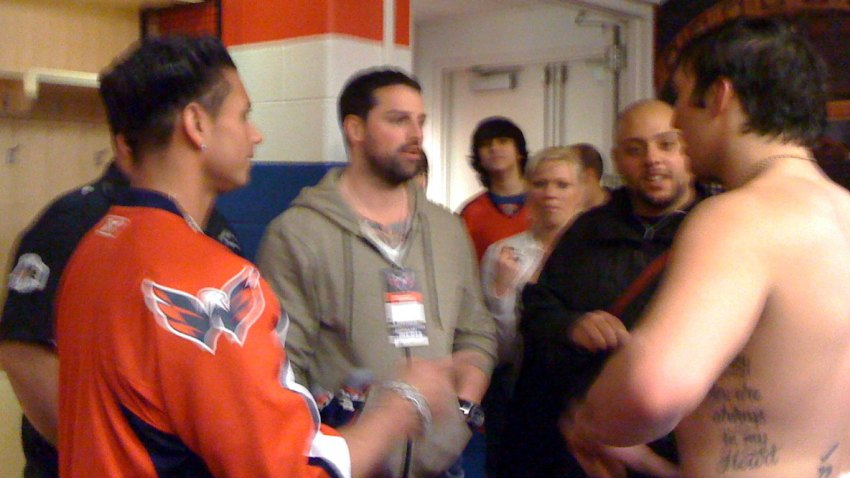 You'll have to excuse Mike Knuble if he was a bit distracted in the locker room Sunday.

With reporters crowding around him wanting his take on his game-winning overtime goal against Chicago, Knuble's mind drifted elsewhere.

"Sorry, I wasn't listening," Knuble admitted to a reporter in the middle of his question. "I was looking at Pauly D."

You're excused, Mike. So were the rest of us. That's because the tan little man with the massive amount of hair gel was hanging out in the Caps' locker room with Alex Ovechkin. Pauly D was wearing a red Caps jersey. Ovechkin was wearing nothing but a towel.


Bizarre? A bit. But for those who follow Ovechkin on Twitter, you knew this was coming.

Apparently they hung out on Saturday at the Shamrockfest at RFK Stadium. Ovi tweeted out several pictures from the concert stage, and even included one of Pauly D holding up his new Caps jersey.

"@DJPaulyD going to the game tom...he gonna scream let's go caps!aaahhaha" Ovi tweeted.

Later, he added, "Beat That Beat Up!!! My boy PaulyD is the BEST!!!!!"

Ah yes. "Beat Dat Beat Up," which is DJ Pauly D's hit song, has become the unofficial anthem of the Caps. They play it in the locker room after wins, so it was perhaps only fitting that they recorded a victory on the day Pauly D watched them in person.
Earlier this season John Carlson, who is credited with starting the Caps' "Beat Dat Beat Up" craze, hoped that Pauly D would make it to a Caps game this season, and on Sunday his wish came true.

Besides appearing in the locker room, he also apparently got blessed before his upcoming trip to Italy.

And, of course, Carlson made sure he took a picture with his Jersey Shore hero. He posted it on Twitter after the game.

"@DJPaulyD beating that beat up after a huge win against a very good team. Me and @EricFehr16 #beatdatbeatup #caps"

Forget the rally monkey, folks. The Caps have Pauly D.

Beat dat.
UPDATE: Here's video of the Ovi-Pauly postgame encounter from Ben Sumner: