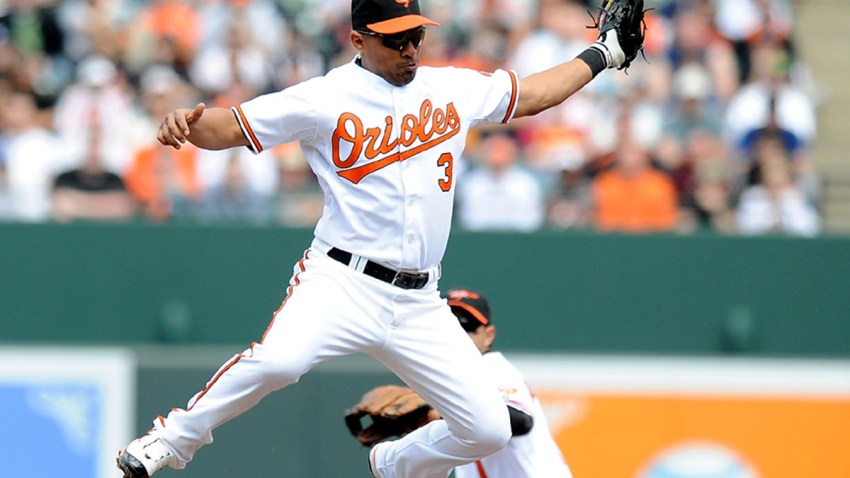 Oakland, Calif. -- The Baltimore Orioles' 1-9 loss to the Oakland Athletics Friday night started before the game.
That's when the Orioles learned that they would be without starting shortstop Cesar Izturis -- indefinitely.
The 29-year-old awoke Friday morning in Oakland with severe stomach pains and was taken to a hospital, where he was diagnosed and later underwent an emergency appendectomy that night.
The news didn't get any better for Baltimore once the game started.
Guthrie (4-5) got only two outs, his shortest stint as a starter. The right-hander gave up back-to-back singles before Cust hit Guthrie's 10th pitch of the game over the wall in right-center for a 3-0 lead.
Cunningham added a two-run single later in the inning and Rajai Davis had a RBI single to chase Guthrie, who left four batters after getting hit on the right forearm near his wrist by Jason Giambi's line drive.
Mark Hendrickson replaced Guthrie and pitched three scoreless innings before stumbling in the fifth, allowing consecutive hits to Kennedy and Cust. Holiday followed with a towering three-run homer to center to make it 9-0.
A's players Jack Cust and Matt Holiday each hit three-run homers, Dallas Braden matched his career high of seven strikeouts. The lefty baffled the Orioles most of the evening and allowed only one runner to reach second base through the first six innings. He also started a 1-6-3 double play in the fifth to shut down a potential scoring threat.
Braden's lone mistake came with two outs in the seventh when he gave up a home run to Luke Scott, ending a 20-inning scoreless streak by A's pitchers. Edgar Gonzalez and Russ Springer completed the five-hitter.
Baltimore has dropped five of its last six and is just 5-19 over its last 24 road games.
In last place in their respective divisions, the Orioles and the Oakland A's play the second of a three-game set at McAfee Coliseum tonight. The game starts at 9:05 p.m. EDT at Oakland Coliseum.
Notes: The Orioles released veteran LHP Jamie Walker prior to the game. The 37-year-old had a 5.11 earned run average in 12 1-3 innings and was coming off a horrible appearance in Seattle on Tuesday. LHP Alberton Castillo was called up from Triple Norfolk to take Walker's spot on the roster. ... A's OF Ryan Sweeney underwent an MRI on his left knee Friday after crashing into the outfield wall in Chicago on Tuesday. Sweeney has not played since. ... Giambi (0 for 2) was the only A's starter to not have a hit.
Copyright AP - Associated Press