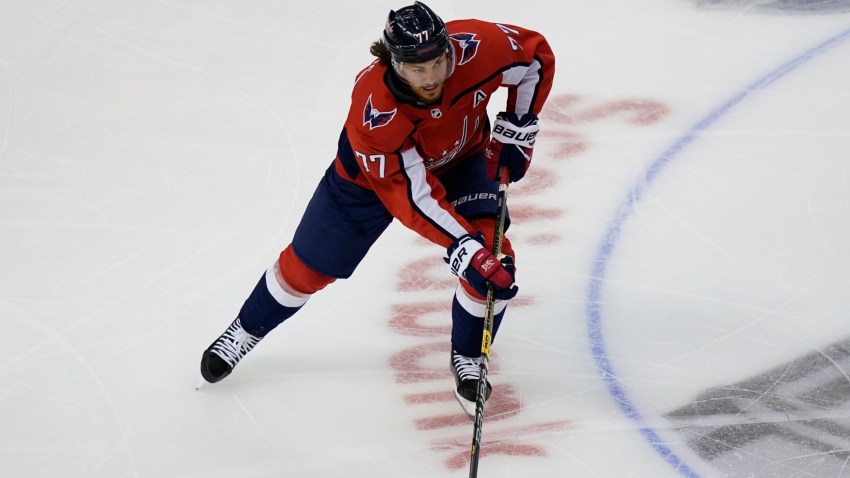 The first period of Game 1 between the Capitals and Islanders went scoreless, but the deadlock didn't last long into the second frame.
Washington center Carl Hagelin drew an interference penalty from Islanders winger Matt Martin just over four minutes into the period. It didn't take long for Washington to make Martin pay.
Following an Evgeny Kuznetsov shot that went wide of the net, Capitals winger T.J. Oshie found himself in the right place at the right time. Oshie collected the rebound from the missed shot and had a wide-open net.
Oshie didn't miss, and the Caps were able to capitalize on the power play.
Later in the period, Washington found itself on the power play once again. Once more, Oshie delivered.
With a loose puck in front of the crease, Oshie was able to poke it through the legs of New York netminder Semyon Varlamov for his second goal of the game, giving Washington a 2-0 lead.
The winger also opened the scoring for the Capitals on Sunday in a 2-1 victory over the Boston Bruins. The victory gave Washington the No. 3 seed in the East and a first-round playoff matchup against the Islanders.
If the Capitals are going to make a deep Stanley Cup Playoff run this summer, they'll need Oshie to be at his best. Thus far, the winger has answered the bell.
CLICK HERE TO SUBSCRIBE TO THE CAPITALS TALK PODCAST
Stay connected to the Capitals with the MyTeams app. Click here to download for comprehensive coverage of your teams.
MORE CAPITALS NEWS:
T.J. Oshie scores Capitals' first goal of the Stanley Cup Playoffs originally appeared on NBC Sports Washington
Copyright RSN