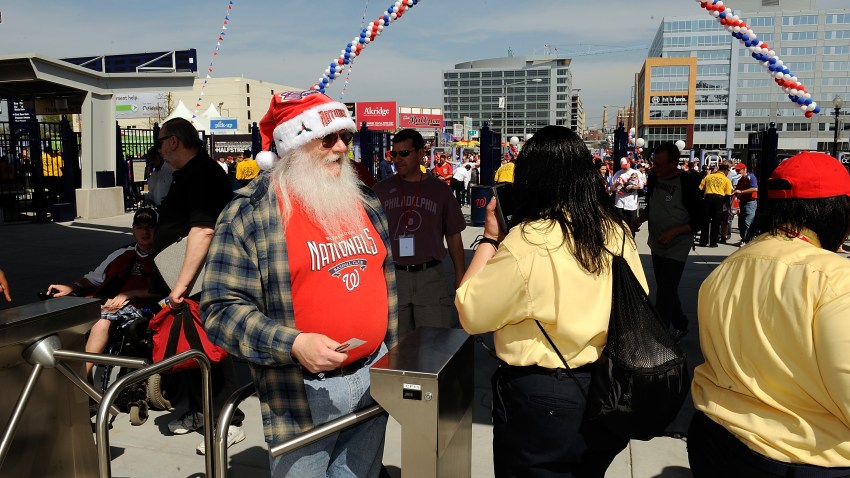 It's the Nationals home opener. It's a gorgeous day, the president throws the first pitch, and the Nationals' fans are excited to host the National League champions Philadelphia Phillies.
Until Philly fans made their presence known, that is.
What was supposed to be a home game soon became an away game for the Nationals. When the Nationals' players were introduced, resounding boos came from the stands. When the Phillies started to score in their 11-1 rout of the Nationals on Monday, the Philly fans just turned Nationals Park into Citizens Bank Park South.
Whether you were watching from home or in the stands, you couldn't help but notice the Philly take over. How did it happen?
According to Adam Kilgore from the Washington Post, there was correspondence between a Nationals account executive and Brian Michael who buys game tickets in bulk for Philly fans who visit his Phillies blog. And it was initiated by the Nats. Kilgore wrote:
"The Nationals did not discourage Phillies fans from coming in droves. If anything, the team may have encouraged them. In December, Michael received a phone call from Bree Parker, a senior account executive in the Nationals group ticket sales office. She wanted to know if Michael needed to reserve tickets so he could watch his favorite team on opening day."
In trying to find out how the Phillies took home field advantage away from the Nationals, Mark Zuckerman from the Nats Insider blog exchanged e-mails with Nationals president Stan Kasten. Kasten said:
We sell season tickets and book groups all winter long. For every game of the season. All of this is before any individual tickets go on sale. Most of our groups are local. Some are from out of town. It's really that simple."
That maybe good business for the bottom line, but it sure left a bad taste to the many Nationals fans who wanted to cheer for their home team and have their home team feel like they are actually at home.