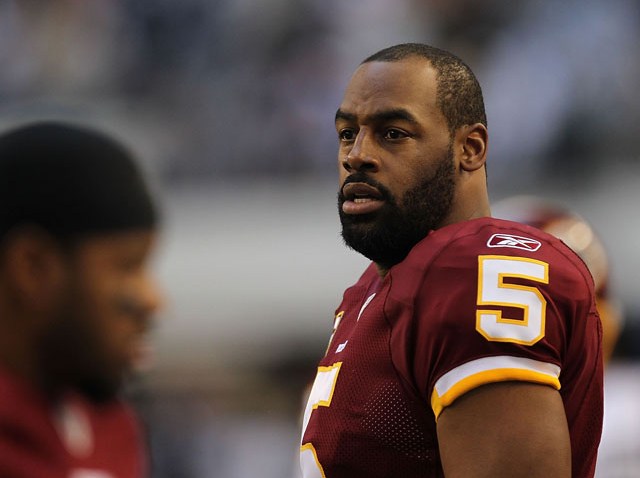 When Donovan McNabb was asked Thursday about where he's going to play next season ... well, he wasn't too sure.
"Maybe I'll play for the Nationals," he quipped.
That sounded like a good idea to Potomac Nationals general manager Josh Olerud. So on Friday morning, he reached out to McNabb's people with a message: "Any time he wants to come out here and work out, our young guys would get a kick out of it. We'd be more than happy to have him."
As of Friday afternoon Olerud hadn't heard back, but he's hoping for a positive response soon.
Now this doesn't mean he's offering McNabb a contract to play for the P-Nats; it's more of an offer to do whatever the heck he wants in Woodbridge, Va.
Why? Because he's Donovan McNabb, of course.
"I know that he likes the area, and he's really entwined with the charities," Olerud said. "If he wants to come out and do a first pitch ... come out and do anything. He's pretty adamant with his love for D.C."
McNabb talked about just that Thursday when he showed up at a local health center's grand opening. He said he loves to give back and be a part of the community. Olerud saw that as an opening for a relationship with his Class-A Nats' squad.
"I guarantee that -- even though things haven't worked out for the best for him (with the Redskins), he's still a fan favorite," Olerud said.
He's hoping McNabb will stop by for some batting practice, or perhaps to shag some fly balls in the outfield. Or maybe even get in a private workout with his team.
"A lot of them are huge football fans," Olerud said. "They'd be starstruck if No. 5 was out here working out with them."
Olerud added that if any of the other Redskins are looking for something to do during the NFL lockout, they're more than welcome to stop by Woodbridge for some action on the baseball diamond.
"If they want to come out here and swing some lumber," he said. "We'd be happy to throw to them."