The Washington Capitals have been struggling to score lately, particularly forwards not named Alex. Entering Wednesday's eventual 5-2 loss to the Ottawa Senators, only six of the Caps' 20 goals this month had been scored among the rest of the forwards.
That changed Wednesday during the third period when Mathieu Perreault scored his first goal since February 7, but continuing the awful luck that has plagued the Caps lately, he did not score with his stick. He actually scored off his face.
Jason Chimera earned the primary assist on the play, but it really should read "Mathieu Perreault from Mathieu Perreault's tongue and Chimera."
"My tongue was out, so it bounced off my tongue and in the net," Perreault said to The Washington Times' Stephen Whyno. "These things happen when you go to the net. Not the way you want to get goals, but he hit me in the face and it went in."
After Thursday's practice, Perreault said that he suffered a chipped and loosened bottom tooth, but admitted that it was worth it to score a goal.
Perreault's face is accustomed to such trauma. Last season, Perreault broke his nose after he absorbed a hit from the Carolina Hurricanes' Tim Gleason, cracking his visor. After the game, the aftermath was shown to the world through John Carlson's Twitter page: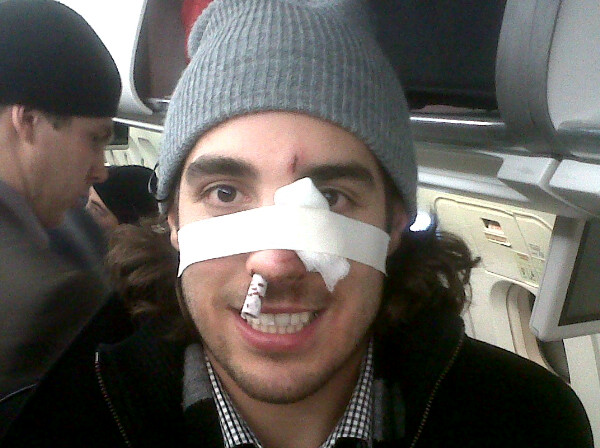 Someone get his tongue in traction. Or let him borrow Dmitry Orlov's facemask.