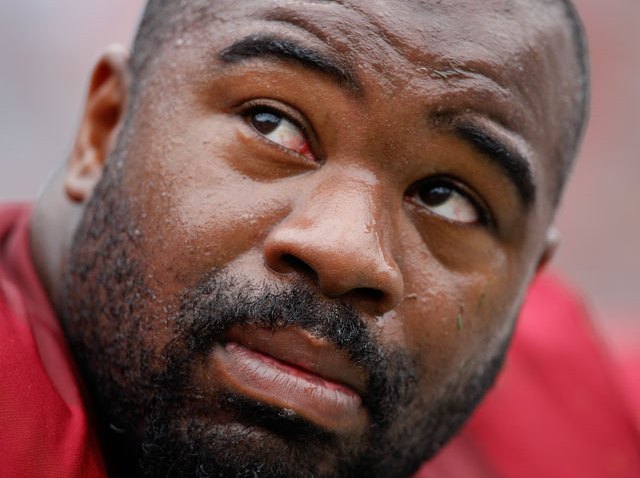 There are times Albert Haynesworth wishes he still was playing for the Tennessee Titans.
There were times last year he felt like he was being used as a "showpiece" by the Washington Redskins.
He said the big misperceptions about him are that he doesn't care about his team and that he no longer tries hard because he got his big payday.
And that play Monday night when he stayed on the ground and didn't get up while Michael Vick was scrambling around and completing a pass for a touchdown? Haynesworth was injured and thought he heard the whistle.
"I got taken out by friendly fire," Haynesworth said. "It was Vonnie Holliday. He like ran into my leg, and then I had like a horse, a charlie horse, in my thigh. I knocked him back and then I thought I heard the whistle, so I kind of like stayed there for a second to gather myself, and then I was like, '---- he's still got the ball,' and then I looked, and he throws the ball for a touchdown."
Haynesworth, who rarely speaks at length to the media, ruminated Wednesday about the good days with his old team and the challenging days with his new one as he prepared for his return trip to Tennessee with the Redskins on Sunday.
"Do they wish they still had me? Yeah," Haynesworth said. "Sometimes I wish I was still back there -- because I felt like I could still be dominant."
Haynesworth left the Titans after seven seasons to sign a $100 million free agent deal with the Redskins last year. He was perhaps the most dominant defensive lineman in the NFL during his last two years in Tennessee, but there were nagging questions whether he was a full-go player every down he was on the field -- and whether he had stepped up his game in Tennessee just to get a big contract. Washington threw so much money at him that there was no chance of staying where he was.
"Look at the history," Haynesworth said. "Jevon Kearse, Kevin Carter, all these guys, they never really paid any defensive linemen. No guy ever really finished there. I knew it was going to happen, and all I wanted to do was just go somewhere else and be appreciated and get to play the way I did."
Titans coach Jeff Fisher said the Titans were interested in re-signing Haynesworth.
"He had his best year of his career," Fisher said, "and we just didn't get an opportunity."
Haynesworth's goal of being appreciated got off to a bad start in Washington. He was a disappointment last year for a 4-12 team under coach Jim Zorn, and he's had a rocky relationship this year with new coach Mike Shanahan. There were differences over offseason workouts, conditioning tests and preseason playing time, but the crux of the issue was that Haynesworth didn't want to play nose tackle in a 3-4 defense.
In recent weeks, the Redskins have given up trying. Haynesworth doesn't play in the team's base package anymore and enters the game with the nickel unit, usually as a pass-rushing defensive end.
"I'm starting to feel appreciated," he said. "At first, last year, not really. I felt like I (was) just kind of like a showpiece to take up blocks and help the teammates, which, of course, I want, but as my teammates are playing good, I want to play good, too. I want to be able to get sacks and stuff, and that's one thing (I did) at Tennessee."
Eleven of Haynesworth's 19 tackles this season and both of his sacks have come in the last three games.
"Now I'm getting back to it. It's still a different role, but it's more similar to what I did in Tennessee," he said. "I had to get used to coming off the bench and playing less plays and stuff like that, but it's really helped me out a lot as far as keeping me healthy and being more productive."
Haynesworth said people get a few things wrong when they think about him.
"People probably don't think that I care about the Washington Redskins," he said. "That's not true. I have a lot of great friends on this team, and I think we do a lot of things great together. As far as thinking that just because I got paid that I'm not going to play, that's not true either. I've always said if you just put me in the right situation, then I'll be prosperous."
Titans linebacker Stephen Tulloch, who played with Haynesworth for three seasons, said he's been surprised by his former teammate's difficulties in Washington.
"That's not what I see in Al," Tulloch said. "I know who he is as a person and what he's about. It's mind-boggling in a sense. ... We all had good vibes with Albert. We never had a problem with him."
Redskins defensive end Phillip Daniels said Haynesworth is a teammate who laughs a lot but is very private. Haynesworth counts Daniels as one of his best friends on the team, but Daniels said he knows little about Haynesworth's life outside of football.
"The eyes are on him so much that he don't have room to breathe," Daniels said.
Haynesworth dealt with a personal tragedy last month when his half-brother died in a motorcycle accident in Nashville, only a few miles from the stadium where the Redskins will play Sunday. Haynesworth has a house in Knoxville and a condo in Nashville and considers Tennessee his home.
But his team is now the visiting Redskins, which means a chance to send a message.
"Just to go out there and get a victory," Haynesworth said. "And show 'em that they miss me."
"Hopefully, he handles it well and has one of his best games," Shanahan said. "Anytime you go back to where you started, (where) people gave you your first chance and for whatever reasons why it didn't work out there, I'm sure he wants to go back and play his best game of the season. I know I would if I was in his shoes."
As for the long term, Haynesworth said he'll keep coming off the bench if that's what the Redskins want.
"I'm under contract for another five years, so if they keep me five years doing the same thing, I'm happy with it," he said. "But if they want to change it, they change it."
Copyright AP - Associated Press