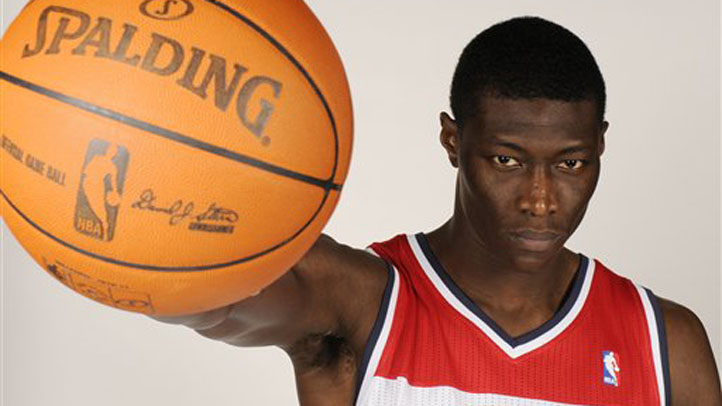 Hamady N'Diaye was waived by the Wizards on Tuesday after two years with the team and multiple trips to the D League. Always one of the hardest workers on the team, his positive attitude was infectious.

Hamady is no stranger to obstacles and adversity, and a particularly horrible experience as a teenager would have broken lesser men. But for Hamady, it only made him stronger.

Hamady was brought to the U.S. in 2004 by a man named Babacar Sy, a former coach for the Senegal 18-and-under national team whose relationship with African players made him a natural scout for American schools.

His first experience with basketball in America was at Life Center Academy in Burlington, N.J. Sy had built a relationship with the school and often brought them players that he recruited from Africa.

Sy was Hamady's legal guardian in the States, but Hamady lived with his coach while Sy traveled back and forth recruiting more players.

In the fall of 2005, Sy accepted a job as basketball coach of Florida Prep, a small school in Port Charlotte. He was bringing his recruits with him, including Hamady, who moved to Florida with the intention of playing his senior year for his coach and mentor.

What Hamady didn't know was that the school was facing bankruptcy and didn't have enough money to properly house the international players. He also didn't know was that Sy was going to be leaving him in Florida.

It is unclear why Sy had to leave the school. Hamady says he went back to Africa to talk to the families of recruits and to bring back more players. Other reports say that the school never legally hired Sy, so when his visa ran out he had to return to his home country.

Regardless of why he returned to Africa, the players he left behind suffered in deplorable conditions.

"We were not treated right, basically," Hamady said. "It was very bad. They were feeding us really poorly for kids that didn't have any families here in America."

To say "very bad" is just Hamady putting it kindly.

"They placed us in a house where we weren't getting much food," he continued. "A lot of us were Muslims and they would bring us pepperoni pizza and pork sandwiches and things we couldn't eat. We felt disrespected. There were American kids staying in a different house having everything that they needed, but we couldn't get anything to eat."

The players were regularly underfed and often forced to live without working plumbing. Hamady himself lost 10 pounds.

"It was like we were animals, basically," he said.

The African players decided to leave in an escape ripped right from the movies. They fled the school at 3 a.m. one night in a van with assistant coach Patrick Kunganzi. When school officials entered the house the next day it was empty.

The players were taken to the airport and flown cross country for what would be the next step in an already scary journey. Sy had secured a job at Stoneridge Prep in Simi Valley, Calif. Mike Mahoney, a California businessman looking for a basketball school for his own son, donated $350,000 to the school's program which provided enough funds to pay for room and board for six of the international players who had fled Florida Prep, Hamady included.

The rest of Hamady's path to the NBA was much less dramatic. He went back to NJ to play for Rutgers and was drafted by the Timberwolves at 56th overall in 2010. But his experience at Florida Prep serves as a reminder to him of what he has overcome to get there.

"It was an experience that made me and the people who got out realize what we really had and how much we needed to work to change our status," he said.

Always positive, Hamady is quick to make it clear that he has made peace with what happened.

"I don't have issues with anybody," said Hamady, who remains close with Sy and calls him family. "Everything turned out OK for me."

It is that attitude that will make the 7-footer an asset to wherever he lands next.
Questions, comments or tips? Email Sarah at sarahskogod@gmail.com. You can also follow her on Twitter (@sarahschorno).