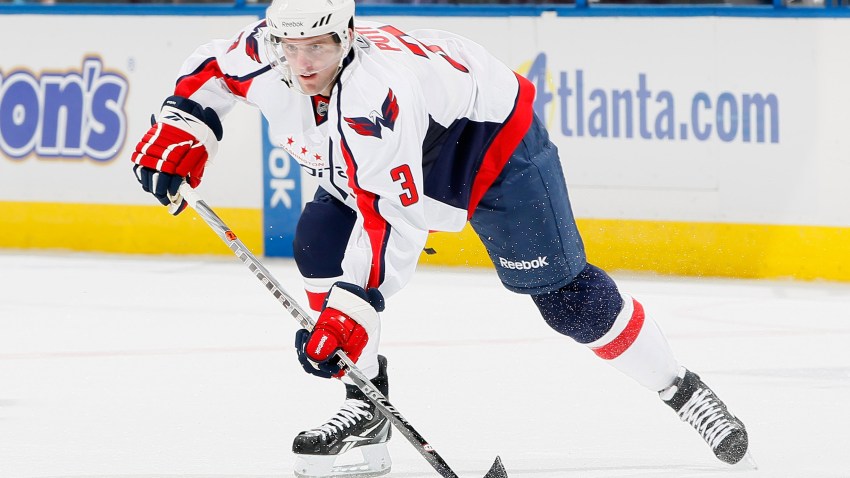 After a two-game conditioning stint with AHL Hershey, Washington Capitals defenseman Tom Poti rejoined the team Thursday for their open practice at Verizon Center, which was part of a "Fan Appreciation Special Event."
It has been just over two years since Poti last appeared in an NHL game, but according to General Manager George McPhee, the 35-year-old defenseman could make his long-awaited return Saturday when the Caps open the season against the Tampa Bay Lightning.
"He might be able to play," McPhee said. "He's played very well. We've talked to him about his injury and he said that it's not bothering him at all. He doesn't feel it, it's not in his mind. There's no hesitation in the way that he's been playing. He's got a burst. He doesn't hesitate at all. We want to get him up here and see how it looks, so with the health issues out of the way, we think for now that the issue is timing...but everyone's timing is off up here right now, so it'd be a good time to do it."
Washington loaned Poti, who has been slowly recuperating from a lingering groin injury and a fractured pelvis, to Hershey Sunday. In two games with the Bears, he scored once and got over two of the hurdles that ramained on his road to recovery: skating regularly without pain and taking contact.
"It was awesome," Poti said, adding that he and head coach Adam Oates discussed the idea of the conditioning assignment before training camp started Sunday. "It was fun to be playing hockey again. I was having a blast out there and I thank them for letting me go down there and work on my game a little bit."
Poti's presence presents the Caps with a bit of a logjam on the defensive end. Including Poti, Washington has eight healthy defensemen and 24 active members of the roster; the maximum allowed is 23. To fulfill the requirement, the Caps could place forward Brooks Laich, sidelined with an apparent groin injury, on injured reserve. They have until 5 p.m. Friday to complete the roster.
Coincidentally, if Poti happens to make it onto the Caps' opening night roster Saturday in Tampa Bay, he will restart his career in the same place it left off on Jan. 12, 2011, but just the fact that he might be able to resume his NHL career at all is something that he doesn't take for granted.
"When I came up here, they just said, 'Well, take it day-to-day and kind of see how it goes,' and we'll make that decision on either Saturday morning or Friday after practice," Poti said. "It will mean a lot. I never knew if I was going to make it back to this point, so it's been a lot of hard work, a lot of blood, sweat and tears, so to say, over the past couple years trying to get back and figure out this injury. I'll always be grateful if I can make it back."'
---
Follow Adam on Twitter @AdamVingan and e-mail your story ideas to adamvingan (at) gmail.com.