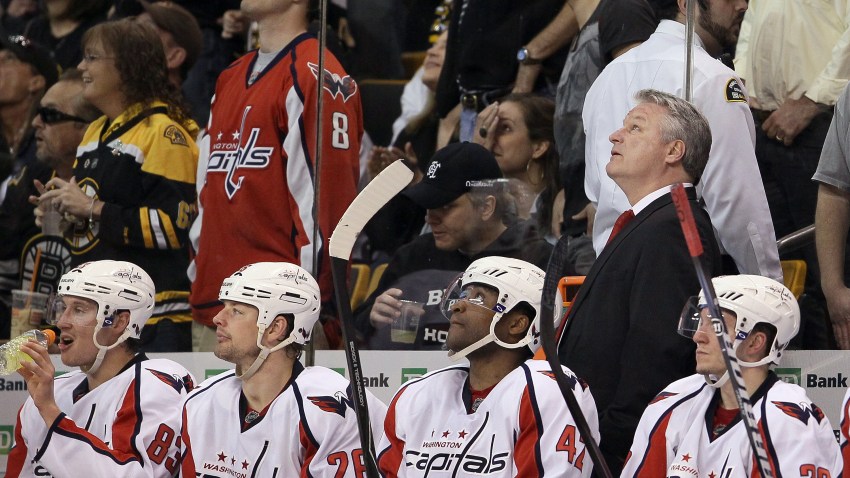 Just over 24 years ago, Washington Capitals head coach Dale Hunter made franchise history. His series-clinching breakaway overtime goal in the 1988 Patrick Division Semifinals lifted the Caps to their first-ever Game 7 victory.
Flash forward to today and the Caps have only won one Game 7 since their head coach did the same (2009). Tonight, Hunter has another chance to earn an historic victory when the Caps face off against the Boston Bruins in the deciding game of their Eastern Conference Quarterfinal series; Washington has never won a Game 7 on the road.
Despite being behind the bench instead of on the ice, Hunter is just as excited.
"As a player, I enjoyed them," he said after Tuesday's practice at Kettler Capitals Iceplex. "It was fun. One game takes all. You don't have another game against these guys. This is gonna end tomorrow night. As a player and as a coach, I look forward to it."
When asked how he handled himself in these high-pressure situations as a player, Hunter said that he went through his normal routine, but as a coach, he understands that he cannot get too sucked in by the intensity of the game.
"As a coach, you can't get too hyper because you've gotta know who's is on the ice and who's not," he said. "It changes from coach to player, but it's exciting to be in a Game 7 like this and playing the Boston Bruins."
It is possible that one of Hunter's charges could join him in the annals of history Wednesday, but win or lose, he is just happy to have the opportunity.
"This is where you want to be," he said. "One game wins all."
---
Adam Vingan is co-founder and editor of Kings Of Leonsis, a Caps-centric blog. Follow him on Twitter @Adam_KOL and e-mail your story ideas to adamvingan (at) gmail.com.