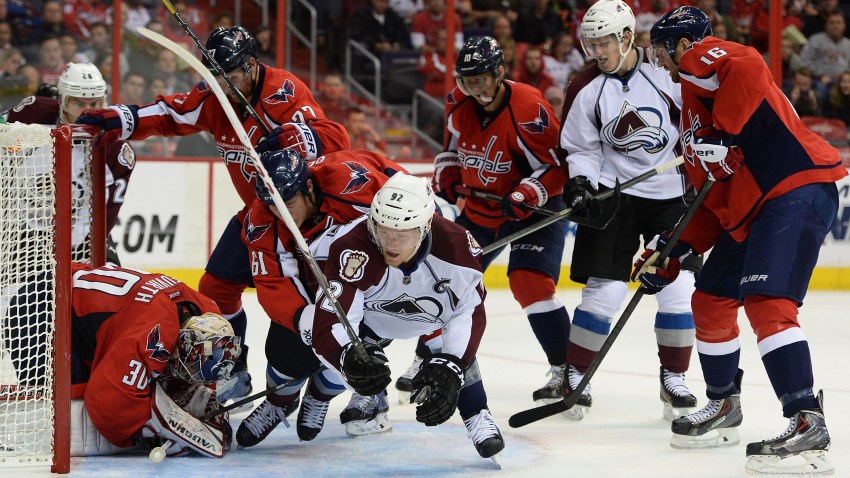 Following his 37-save performance in the Washington Capitals' 4-1 victory over the Columbus Blue Jackets Saturday, goaltender Braden Holtby, in praising the efforts of the team's defensemen, mentioned that they were "challenged to play meaner" around the net.
During a defensive meeting held after last Wednesday's 2-0 loss to the New York Rangers, the Capitals' coaching staff and defensemen collectively agreed that they could stand to be more aggressive and assertive in front of the crease, clearing out space to prevent screens and second-chance opportunities all while "sending a message early" that camping out in front will be met with swift action.
"We were addressed about it and I think rightfully so," defenseman Steve Oleksy said following Monday's practice. "The first little bit of games there, I think they had way too many second- and third-chance opportunities and a lot of them resulted in goals, a lot of them ending up in the back of our net. Guys in this league are too good in front of the net and too strong to just stand there uncontested. They're going to put it in 99 percent of the time. We definitely were challenged to do that. I think it makes our job a lot easier, I think it makes Holts' job a lot easier. It gets pretty unfair to him when they're getting second, third whacks at it and he's trying to sprawl all over the place and make saves."
As Oleksy alluded to, the Capitals were allowing preventable rebound goals through their first seven games, from Calgary Flames forward Lee Stempniak's goal in Washington's home opener to Carolina Hurricanes forward Nathan Gerbe's game-winner one week later. Against Columbus, however, it was evident that the Capitals' defense did a much better job of minimizing those chances.
"A lot of times you get focused on poking the puck and having a good stick so much that you forget, especially with the rule changes, you forget to cross check or give these little bumps that are key to the game," defenseman Mike Green said. "Everything happens so quick these days, guys' hand-eye coordination is incredible, and if you don't move them or at least let them know that you're there they feel they can stand there and they'll be able to bat it out of the air.
"I think that with those little pushes and whatnot, Holts can see the puck for maybe a second and really, that's all he needs is a split second to react. I think that's what caused a lot of the clearness in front of the net are the little bumps and pushes."
Being aggressive does not equate to being reckless, "clubbing people and throwing elbows" as Oleksy described it, but simply being "tougher and meaner" within the means of the game, which the defensive corps believed was lacking. Washington's defensemen may not be the most intimidating or physically imposing, but developing a new edge to their game in the name of preventing easy goals will benefit the team in the long run.
"You don't want to take a penalty, but at the same time, you've got to give a guy a shot every now and then," defenseman Karl Alzner said, adding that he received two warnings from officials to keep his stick down during Saturday's game. "That was the message. Hopefully, that'll help Holts out a little bit."
---
Follow Adam on Twitter @AdamVingan and e-mail your story ideas to adamvingan (at) gmail.com.