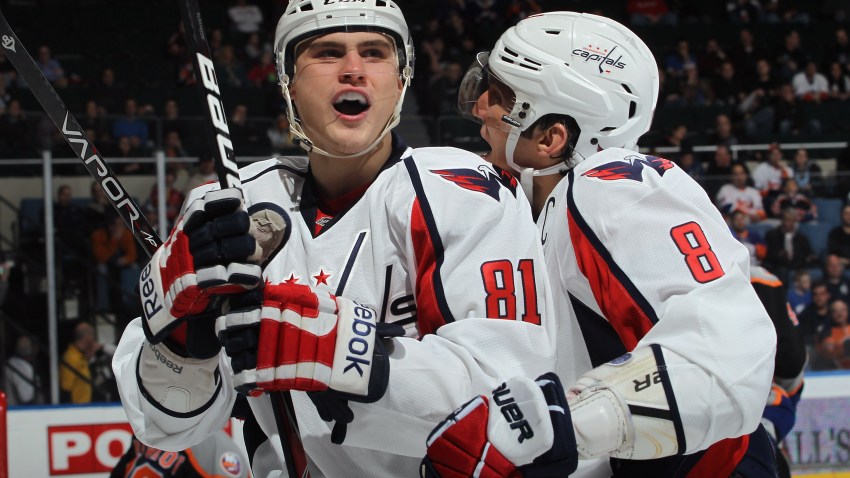 Welcome back to "Capital Letters," a sporadic feature where I answer any and all questions relating to the local professional hockey team/validate my existence.
The Capitals are in Detroit today. Did you know that Motown is a portmanteau of "motor" and "town"? I was as surprised as you are. Your questions.
@AdamVingan when will Orlov be given a chance to show he can play with the big boys? — Vin (@vinnie_vici) November 14, 2013
This is the hot topic currently sweeping the Capitals community. Under former coach Dale Hunter two seasons ago, Dmitry Orlov seemingly established himself as an NHL regular, playing in 60 games and flashing his all-around potential with a booming shot, keen offensive awareness and physical presence.
Unfortunately, his upward career trajectory was delayed by two concussions suffered while playing with the Hershey Bears during the NHL lockout last year. Orlov did play in five games with the Capitals last season -- all in March -- but he was never truly afforded an opportunity to showcase himself under a new regime led by coach Adam Oates.
So far this season, Orlov has yet to see game action for the Capitals despite having spent the last seven games with them. Both Oates and general manager George McPhee attribute that lack of playing time to the team's current corps "playing well" -- which is certainly open to interpretation -- but that "he'll get his chance."
Oates' almost obsessive insistence that players play on their strong sides (left-handers play on the left, right-handers on the right) has, for lack of a better term, handcuffed Orlov, not to mention others. (Right, Eric Fehr?) Two injured left-handed defensemen -- John Erskine (upper body) and Jack Hillen (fractured tibial plateau) -- have left voids that Orlov could surely fill, but he has been usurped by Alexander Urbom and Nate Schmidt and will have to wait his turn, however long that may be.
Personally, I believe that Orlov should replace Urbom. Schmidt has been a steady presence (minus a few hiccups, most notably that delay-of-game penalty in Phoenix Glendale that allowed the Coyotes to tie the game late in third period this past Saturday) and one of the Capitals' best drivers of possession since coming aboard. That is not to say that Urbom has not performed adequately because he has, but I believe Orlov's insertion could bolster Washington's defensive corps.
This is a pivotal season for the 22-year-old. Orlov's three-year entry-level contract expires at season's end, and former Capital Sergei Fedorov is jonesing to bring him back to his native Russia to play for CSKA Moscow of the Kontinental Hockey League after recently acquiring his rights. If the Capitals have no use for Orlov, then they should at least try to reap some sort of benefit for his services. I am sure that there is a market for an all-around defensive prospect with upside.
@AdamVingan on a scale of siberian tundra to death valley how hot is GMGM's seat? esp with playoff miss or 1 and done again? — cadlecreek (@cadlecreek) November 15, 2013
In May, I wrote a column about George McPhee's managerial portfoilo. Suffice it to say, I was not impressed. Here are some of the "highlights":
McPhee is the third-longest tenured general manager in the NHL behind only the Devils' Lou Lamoriello and the Hurricanes' Jim Rutherford, both of whom have won at least one Stanley Cup.
Excluding the Capitals' run to the 1998 Stanley Cup Final, which was a team he largely inherited from former GM David Poile, McPhee has overseen just three playoff series victories (the 2009, 2011 and 2012 Eastern Conference Quarterfinals).
Besides Washington, four other teams have qualified for the playoffs in each of the last six seasons: Pittsburgh, Detroit, Boston and San Jose. Three of those teams have won Cups in that span, while one has made it to a conference final. The Capitals have not advanced past the second round since that aforementioned Final appearance nearly 20 years ago.
Most of my feelings on the subject have not changed in the past six months, so for more detailed analysis, feel free to click the link above. (Here it is again if you have come too far to scroll up.)
McPhee is certainly fortunate that he is employed by one of the more patient owners in all of professional sports because as I said before, general managers have been fired for much less.
Regardless, it is still hard to fathom how a roster filled with the likes of Alex Ovechkin (a three-time MVP), Nicklas Backstrom (one of the NHL's premier playmakers and arguably one of the most unappreciated players in the game) and Mike Green (who, while he may not be the same player he once was, is one of the most offensively gifted defenseman in recent memory) has not even come close to challenging for a championship. That speaks to McPhee's modus operandi, which is simply swapping out the ancillary parts that surround the team's core and hoping that something works.
So to answer the question, from Siberian tundra to Death Valley, I put McPhee somewhere in the subtropics. He may not be endangered, but he can definitely feel the heat. I love meteorological humor.
@AdamVingan What one trade would you make today to help the #Caps and why? — Scott Cannon (@ScottyeCannon) November 15, 2013

Without fail, there is always one question about a trade. We all love playing Armchair GM. (In this case, I will be playing Dining Room Table GM because none of the chairs at the table have arms.)
Actually, the trade that I would have made was just made by someone else. Last week, the Oilers traded my personal No. 1 trade target, defenseman Ladislav Smid, to the Flames. According to CBC's Elliotte Friedman, the Capitals poked around Smid, but that report was ultimately refuted. The Oilers' front office was well represented at Verizon Center recently, further fanning the flames. Or Flames. Whatever.
I believe Smid would have been the most realistic and adequate solution to Washington's defensive problems. At 27 years old, Smid is experienced (476 games), left-handed, large (6'3", 209 pounds) and is most comfortable shutting down the opposition's offensive threats. I think he would have rounded things out quite nicely; a top four of Smid, John Carlson, Karl Alzner and Mike Green does sound pretty formidable.
Here is the catch: Calgary got away with trading two prospects -- forward Roman Horak and goaltender Laurent Brossoit -- to land Smid (and goaltending prospect Olivier Roy). I think it would have cost the Capitals more to acquire Smid's services, considering his hefty salary cap hit of $3.5 million per season. My colleague Chuck Gormley reported that the Oilers were interested in Martin Erat, so is that a trade that you would have pursued?
Either way, it no longer matters. Now that Smid is unavailable (for now), who comes to mind next? That I would have to think about, though I do know of a left-handed, all-around Russian defenseman that is sitting around right now.
And now we have come full circle.
---
Follow Adam on Twitter @AdamVingan and e-mail your story ideas to adamvingan (at) gmail.com.