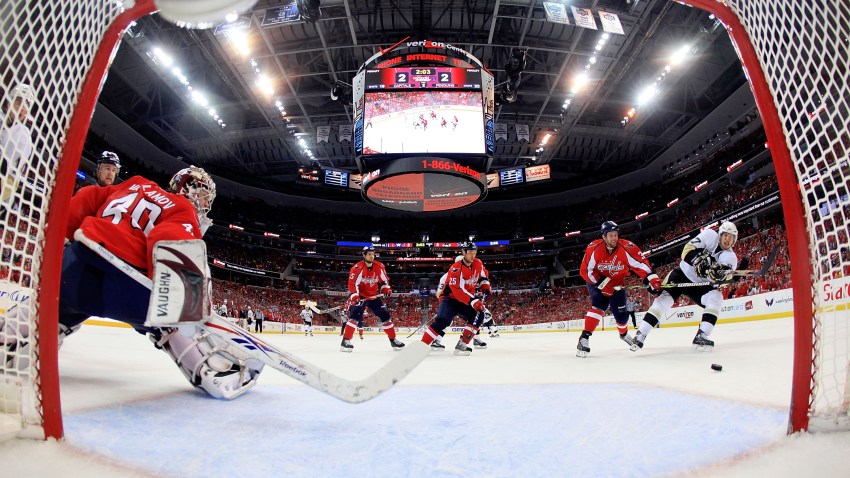 Heading into tonight's Game 2, everyone's still buzzing about the save. (Or should that be "The Save"?)

If you missed it, first, where were you? Second, make sure to watch it.

Tied at two in the second period, Mr. Varlamov (he's earned the title of respect) picked Sidney Crosby's pocket -- like candy from a baby.

Crosby came in on a rush with the immortal Chris Kunitz. Kunitz held the puck, with the Caps defender pushing him wide, and Mr. Varlamov playing the shooter aggressively. But Kunitz passed over to Sidney, who had a wide-open net for an easy tap-in.

But the Iron Curtain crushed his chance, diving across the crease, and catching the puck an inch in front of the goal line with the heel of his stick.

A bit of luck. A bit of skill. Some incredible timing. Some spectacular serendipity. No matter why, the puck didn't go in. And Crosby's still thinking about it.

At practice, he replayed the scene in his mind and on the ice, telling the AP that "[u]sually you're not working on an open net. But I had to."

Even the Caps were in awe. Captain Chris Clark was especially amazed.

"The biggest thing was that he had enough strength on his stick to stop it, because he was reaching back and almost falling over. It's one thing to get a piece of it, but to actually get enough of it to stop it, I thought that was the most remarkable thing."

Mr. Varlamov might not have another one of those saves in his stick, but Caps fans are certainly glad he had at least one.
Chris Needham used to write Capitol Punishment. He vaguely remember CuJo making a similar save out of mid-air when he was with the Oilers.
Copyright FREEL - NBC Local Media