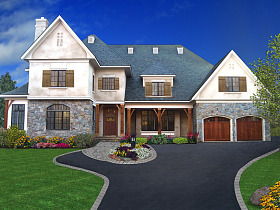 UrbanTurf has learned that Antawn Jamison's sprawling Bethesda home is currently on the market.
Jamison, the NBA all-star forward who was recently traded from the Washington Wizards to the Cleveland Cavaliers, was one of the lone bright spots during the Wizard's loss- and controversy-ridden season.
At 14,000 square feet, Jamison's home, now listed for the tidy sum of $4.15 million, is an appropriate size for a 6'9" power forward. The mansion has the usual trappings for a professional athlete making about $12 million a year including a movie theater, four-car garage, wine cellar, and of course an elevator because 11 years in the NBA can take a toll on a man's knees. There is also a poker room in the basement where one has to wonder if Gilbert Arenas ever sat down and played a few hands.
What is truly remarkable about the property is the over-sized nature of most of the rooms. The kitchen has enough room for a living room-like seating area, the master suite is enormous and sadly, the owner's closet looks larger than most bedrooms this writer has lived in. See what we mean below.
Dining Room
Master Suite
Closet in Master Bedroom
Movie Screening Room
More recent articles about DC area real estate from UrbanTurf:
Copyright 2007-2010, UrbanTurf.
@import url('http://dc.urbanturf.com/stylesheets/nbcwashington.css');
Copyright URBAN