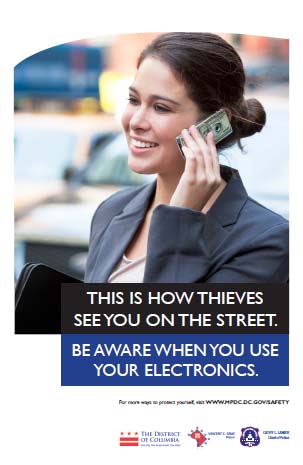 It's the holiday season. All those bright and shiny packages stuffed in the back of your car are catnip to thieves.

And almost everyone, it seems, walks around with a cellphone that's easily visible. Those, too, are prime targets for the grab-and-go thief.

"Actually, our biggest challenge right now is with theft and theft from autos," Police Chief Cathy Lanier told NBC4 this week.

The chief says you can make it a merry holiday by following a few tips:
Don't get distracted no matter what you're doing — talking, listening to music, staring at something you want to buy.
Don't multi-task emailing, texting and talking while you're walking. (Ah, hem. The Notebook pleads guilty to this.)
Keep an eye and a hand on your wallet or purse, and don't flash a lot of cash.
Crimes of opportunity happen anywhere at any time. If you end up the unfortunate victim of a crime, the chief has strong advice — don't resist.

"There's no reason to ever risk injury or your life for your property. Ever!" she said Monday after appearing with Mayor Vincent Gray to announce some special anti-theft squads that will be working in plain sight and undercover during the holidays.

"If you are the victim of a robbery or a crime, and they're trying to take your property, give them the property," she repeated. "You don't ever want to put yourself at risk."

The talk of holdups isn't an effort to scare anyone. In fact, police say many major crimes are going down in the District.

The city is on target this year to have fewer than 90 homicides. The chief said that would be the lowest since 88 homicides were reported in 1960 — more than five decades ago.

Lanier says the lower number is welcomed, but added, "I think we have done extremely well in driving the numbers down, but we've got a long way to go" to do even more.

■ Cellphone bricking. The chief and mayor have been pushing another anti-crime measure to make certain your cellphone can't be used by anyone if it's stolen.

The chief has been leading a national effort to have phone service companies "brick" any phone that's reported stolen. A phone company can disable the unique identification of your phone so that no thief can reuse it.

"Even though we're promoting this … it takes a while for the bad guys to get the memo," Lanier said. The city has set up a Web page — available at brickit.dc.gov — to show people both how to protect their phones and to report them to the various cellphone carriers.

There's hope that sometime next year there may be a simple way to report your stolen phone and have it silenced no matter who the carrier might be.

■ Costco comes to D.C. Your Notebook has made the trip over the 14th Street Bridge to Pentagon City more times than we like to admit. We prefer to shop in D.C., but the Costco in Pentagon City has been an easy place to buy whenever we need to stock up on 500 rolls of paper towels.

No more.

Vice President Joe Biden helped to ceremonially open the new Costco in the District last week. It's located off of South Dakota Avenue NE and Highway 50. The fancy name for it is the Costco at the Shops at Dakota Crossing.

We don't really buy 500 rolls of paper towels, but we are looking forward to our first mega-trip to a Costco that's hiring city workers and paying D.C. taxes. For those who go to it, let the Notebook know what you think.

■ Toned-down inaugural? Some estimates suggested that as many as 2 million people crammed into the District in January 2009 for the inauguration of President Barack Obama.

But don't look for such numbers in January 2013.

First of all, it's the second inaugural. It's not nearly as historic as the first.

But planners — the Secret Service, the various military staffers, local police, hoteliers and others — still have to prepare for a blowout event. There will be any number of inaugural parties. A fluke of the calendar means the inauguration will be held on both Sunday, Jan. 20, and Monday, Jan. 21. (Obama will be privately sworn in on Sunday to meet the legal obligation. The public ceremony at the U.S. Capitol will be on Monday.)

The D.C. Taxi Commission is authorizing special inaugural licenses to make sure there are enough cars-for-hire in the city during inauguration weekend, valid from Friday night until 5 p.m. Tuesday. The special permit will cost $150.

We're just hoping that there won't be a repeat of the "Purple Tunnel of Doom." That's when hundreds of people with priority "purple" tickets got stuck walking in the 3rd Street tunnel under the Capitol grounds and couldn't make their way to the seating. So never mind the "fiscal cliff" everyone is talking about. Just don't accept any purple inaugural tickets. It might be worse.