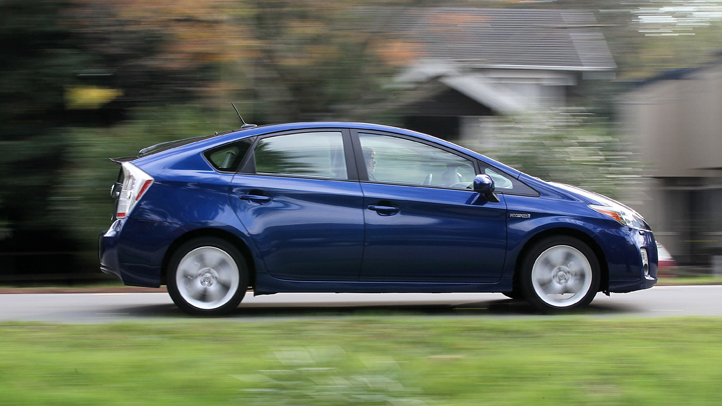 Virginia Rep. Scott Surovell (D) and Sen. Adam Ebbin (D) -- the creators of the online petition "No Hybrid Tax" -- will deliver more than 6,500 signatures to Gov. Bob McDonnell Monday.
The petition, which launched two and a half weeks ago, urges McDonnell to veto the $100 annual fee on hybrid vehicles included in the massive transportation funding legislation.
Hybrid vehicles make up 1.3 percent of all vehicles on Virginia roads. Under the new transportation plan, there will be a wholesale gas tax in Virginia along with this $100 fee.
First Read — DMV
A place for insight, analysis and exclusives on the people who shape politics in the District, Maryland and Virginia.
McDonnell has 30 days from the end of the legislative session, which concluded Feb 23, to amend or veto any bills.
IN OTHER NEWS:

* Democrat Aneesh Chopra won the straw poll for lieutenant governor Sunday night hosted by Congressman Gerry Connolly at his annual St. Patrick's Day celebration. (Aneesh Chopra)
* The Arlington County Board approved the master plan for its $80 million riverfront aquatics center. (Washington Examiner)
* Four states and the District of Columbia have minority populations greater than 50 percent. By 2020, eight more states are expected to join the list. (AP)
* Jeff Schapiro: "Bill Bolling was like Madonna. He just liked to shock us." (Richmond Times-Dispatch)
* Vice President Joe Biden, Justice Elena Kagan and other dignitaries will join Gov. Martin O'Malley at events throughout April to celebrate the opening of the $112 million John and Frances Angelos Law Center in Baltimore, which will be the new home to the University of Baltimore School of Law. (Commercial Property Executive)
* The Democrats of Ward 8 declined to endorse a candidate in the special election for the at-large city council seat, which could mean trouble for candidate Anita Bonds. (Washington Post)
* The new CVS in Chinatown will be three stories tall, with a juice and smoothie bar, frozen yogurt machines, a café and expert eyebrow shaping. (Washington City Paper)
* During CPAC, Virginia Attorney General Ken Cuccinelli reaffirmed his support of Virginia's right to work laws. He said he believes labor is an area in which he can draw distinctions between himself and Terry McAuliffe in this year's gubernatorial race. McAuliffe has the backing of labor unions in Maryland -- a state that has a history of anti-union culture. (Washington Examiner)
* The Virginia Tea Party is demanding that McDonnell veto the road funding legislation. (The Virginian-Pilot)

* Under the new Virginia transportation funding plan, moped owners would have to pay a $100 registration surcharge. (The Virginian-Pilot)