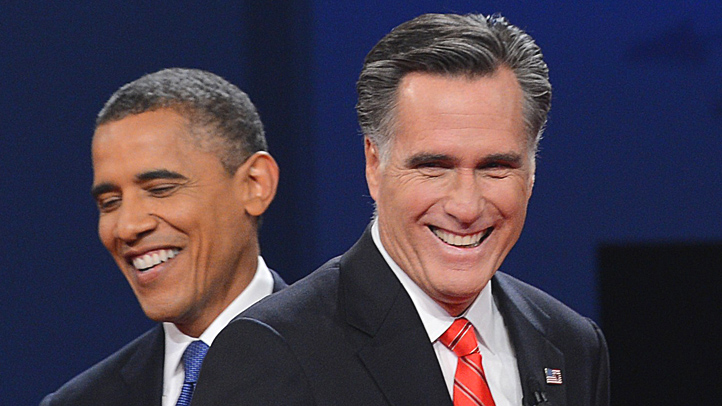 The consensus on last night's presidential debates seems to be that Romney did surprisingly well. He was confident, direct and lively, while Obama seemed unsure of himself, his eyes often looking down at papers on his podium. Romney played it more moderate than he has throughout the campaign, but so far, the pundits haven't been focusing too much on the substance of the debate.
Here's what people from around the DMV have been saying about the debate:
* Maryland Gov. O'Malley -- one of Obama's biggest supporters -- conceded that Romney did pretty well last night.
First Read — DMV
A place for insight, analysis and exclusives on the people who shape politics in the District, Maryland and Virginia.
"Gov. Romney is certainly a skilled debater and last night he was able to elevate his performance," O'Malley told CNN's "Starting Point.
And then the zing...
"This was the first day in many days that was not a disaster for the Romney campaign in many weeks," O'Malley said.
* George Mason University's Professor of Public Policy Mark Rozell told the Richmond Times-Daily that Romney "looked good, but some of what he said... could generate some political blowback and it is not clear [that] his performance... will make a lasting positive impact on his chances."

He added: "[Romney was] assertive, yet civil, while Obama weakly held his head down and even seemed to shake his head in agreement while Romney was criticizing the president's positions and leadership."
* Always entertaining, D.C. Councilman Marion Barry tweeted: "Did Romney forget what President Obama inherited? Somebody has short term memory?"
Then in response to Romney saying that he would cut funding to PBS despite being a fan of Big Bird, Barry tweeted:
"I guess Romney forgot how to get to Sesame Street!"
* The Washington Post Editorial Board wrote that the debate was "wonky without being particularly honest":
But the two candidates were strikingly complicit in failing to confront the magnitude of the fiscal challenge the winner will face immediately. The overriding feature of the debate was a tacit conspiracy of avoidance.
IN OTHER NEWS:
* Mayor Gray revealed playoff plans for the Washington Nationals.
* And he vetoed a plan for an extra taxi charge during Nats playoffs
* The Obama campaign announced today that the First Lady will travel to Loudon County for a campaign event Oct. 9.
* Prince George's County launches a 311 call system for non-emergency requests.
* Mayor Gray's getting bullied by Virginia Republicans.
* The D.C. Council will consider a trio of bills targeting non-resident D.C. government workers.
* Maryland has the weirdest-shaped Congressional districts in the nation.