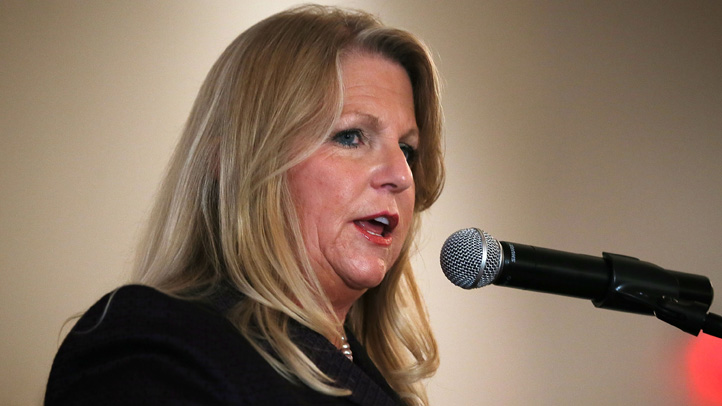 Former Virginia first lady Maureen McDonnell's chief of staff kept hidden a close relationship she had with a company's CEO who is the star witness in the corruption case against McDonnell and her former governor husband, according to court documents filed Wednesday.
Defense lawyers submitted a draft letter written by Mary Shea Sutherland to former Star Scientific CEO Jonnie Williams. The lawyers want a judge to approve subpoenas seeking other communications between the pair.
Sutherland said in the letter that she and Williams had numerous breakfast meetings and conversations via text message about leaving McDonnell's office and working for Williams. She said she kept those communications secret at Williams' request.
First Read — DMV
A place for insight, analysis and exclusives on the people who shape politics in the District, Maryland and Virginia.
Former Gov. Bob McDonnell and his wife were charged in January of improperly helping Williams promote his company in exchange for more than $165,000 worth of loans and gifts. The McDonnells have pleaded not guilty and Williams is expected to be a key witness in their July trial.
Lawyers for the McDonnells have previously signaled that Sutherland's actions and motives will be a key part of their defense. They said a January motion that Sutherland's secret efforts to help Williams undermines the prosecutor's case. Defense lawyers previously submitted to the court an unsigned $9,000-a-month contract between Williams and a now defunct public relations firm listing Sutherland as the lead consultant.
Part of the help given by the McDonnells, prosecutors said, was a launch party for a new Star Scientific dietary supplement at the governor's mansion hosted by Maureen McDonnell on in August 2011.
Sutherland said in the letter that Williams was "insistent" that she not tell the governor's office she was leaving state government office until after that party. She also said that when Maureen McDonnell found out Sutherland was quitting, the first lady grilled Sutherland and searched her office.
"Every communication you and I had was via text, I do have copies of them all but did not keep them at the office," Sutherland wrote. "If I had kept those copies at my desk, she would have had quite an eyeful."
Defense lawyers said in a motion that Sutherland and Williams exchanged nearly 200 texts from 2011 to 2012, according to Williams' phone records. The lawyers are asking for copies of those texts as they prepare for the trial.
The letter marks the most detailed public accounting so far of Sutherland and Williams' relationship. An attorney for Sutherland declined comment. Williams' lawyer did not immediately return a request for comment.
Prosecutors have noted that the majority of Williams' gifts to the McDonnells came after Sutherland left state employment in October 2011.
Sutherland was close enough to the former first couple to have had her wedding reception at the governor's mansion. Pictures of the wedding posted online show the McDonnells in attendance, smiling and chatting with Sutherland. In one picture, the former first lady gives Sutherland a hug. In another, the former governor gives Sutherland a kiss on the cheek.
Copyright AP - Associated Press