A man was shot on a platform at the Anacostia Metro Station Tuesday afternoon, according to Metro.
The victim was shot multiple times about 1:45 p.m. He was taken to a hospital and is in very serious condition.
"It appears that there was some type of conversation between the two," D.C. Police Chief Robert Contee said. "Should add that there is one firearm that has been recovered on the scene."
Police have surveillance video of a suspect.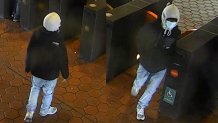 D.C. police homicide detectives are investigating. Shuttle bus service was available between Anacostia and Congress Heights while Anacostia was closed for the investigation.
Shortly after the shooting, police responded to a barricade situation at an apartment building nearby. It's unclear if that is related to the shooting. That situation is over.