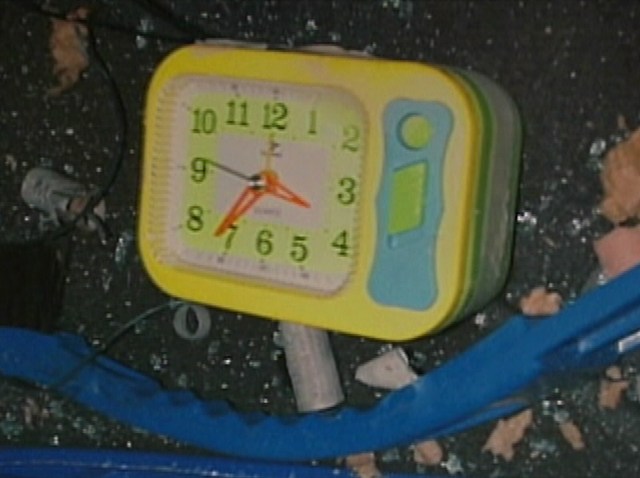 Sometimes, people used to tell Lance Orton not to be such a busybody, but the Vietnam veteran and Times Square T-shirt salesman can't help it. When he sees something wrong, he has to report it.
Nobody's complaining about Orton now, not after he alerted a mounted policeman when he noticed smoke coming from a parked SUV in New York City Saturday evening. Inside the vehicle were the makings of a crude firebomb — propane tanks, gasoline, fireworks and alarm-clock detonators. The vendor is being hailed as a hero who may have saved uncounted lives through his alertness.
"People take it lightly," Orton told TODAY's Meredith Vieira and Matt Lauer on Monday. "I've had a few situations where I've told people about things; they say, 'That's nothing.' But you can't take that attitude."
U.S. & World
The day's top national and international news.
Orton was wounded in Vietnam and gets around with a cane. He said he was sitting next to his wares when he saw a Nissan Pathfinder parked with its emergency flashers on and its motor running. A small amount of smoke was coming out of it.
The hero vendor said he didn't see who got out of the vehicle because of a performance on the other side of the street. "I was distracted by the crowd," he said.
Alerting authorities
But then he saw the vehicle. "I wondered why nobody noticed it," he said.
One of Orton's helpers suggested calling 911. Orton said he pointed at mounted police officer Wayne Rhatigan, who was on duty in Times Square.
"There's a patrolman right there on the horse. I asked one of my guys, 'Go over there and grab that officer,' " Orton recalled. "He came over on horseback. He saw what I did. It was steadily getting worse."
When popping noises and flashing sparks came from the car, Rhatigan quickly led police in, moving pedestrians to safety and clearing traffic so that the fire department and bomb squad could neutralize the bomb before it exploded.
"Whoever did this luckily did an amateur job," Orton observed.
Brushing off interviews
Another vendor named Duane Jackson also noticed the smoking vehicle and alerted police. Jackson ended up doing numerous interviews and having dinner with Mayor Michael Bloomberg and Officer Rhatigan at a Times Square restaurant, but Orton brushed off pleas for interviews and passed on dinner with the mayor.
He did agree to talk to TODAY, telling Lauer just before going on the air, "I could have been here playing a harp this morning." Asked later how he felt, he said, "Glad to be here."
Person of interest
Police have released a surveillance video showing a man who may be in his mid-40s taking a shirt off a short distance from the SUV, which was parked at West 45th Street and Broadway. He has a red shirt on underneath. The man glances in the direction of the SUV and walks off. Police have named the unidentified man as a person of interest.
Secretary of Homeland Security Janet Napolitano, in an earlier appearance on TODAY, said the man is not an official suspect. Although New York police have said the bomb was not the work of the Taliban or other foreign terrorists, Napolitano said nothing has been ruled out.
"Right now, every lead has to be pursued. I would caution against premature decisions one way or another," Napolitano said. "The investigation now needs to take its course."
"We've got to be very careful," Bloomberg said. "There's hundreds of tapes and there's millions of people who come through Times Square."
Of the man in the surveillance video, the mayor spoke cautiously. "Maybe he had something to do with it and maybe not."
Copyright MSNBC - MSNBC