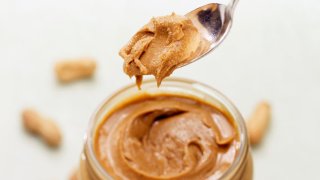 The Transportation Security Administration's set of rules for safe travel in the skies have evolved over the years, as threats foreign and domestic make themselves known. Still, those rules sometimes result in a bit of confusion, and by one man's account, a lot of nuttiness.
On March 15, Twitter user @catholicpat, whose real name is Patrick Neve, recounts that on a recent trip through the airport, his stop in the TSA line left him scratching his head.
"I tried to take peanut butter through airport security. TSA: Sorry, no liquids, gels, or aerosols," wrote Neve, in a tweet that has garnered 10.5 million views and over a thousand comments. "Me: I want you to tell me which of those things you think peanut butter is."
We're making it easier for you to find stories that matter with our new newsletter — The 4Front. Sign up here and get news that is important for you to your inbox.
Neve's tweet ignited a flurry of responses on social media ranging from confusion to incredulity, with folks far and wide sharing their own experiences in airport security.
"Aaannnnnd now you're on a list," joked one user on Twitter.
U.S. & World
The day's top national and international news.
"I once brought a full, sealed jar of Nutella with me as part of my lunch on the airplane. They took it from me and threw it away," wrote another user, adding a crying emoji.
"This has happened to me too before," said another user on Twitter. "Meanwhile, in Italy, my husband has taken an entire lasagna as handluggage."
Still, some took the side of the TSA, citing that peanut butter does, in fact, fit into one of those categories.
"Peanut butter is a gel," said one user, before adding, "I kind of want to know what *you* think it is lol."
"Out of those 3, gel. But it's more of a paste," said another. "It's not really butter either."
The TSA caught wind of Neve's viral tweet and responded to all the hubbub surrounding it, taking to their often comically-toned Instagram and Twitter to add to the conversation.
"You may not be nuts about it, but TSA considers your PB a liquid," wrote the official TSA account on Instagram. "In carry-on, it needs to be 3.4oz or less. Make sure all your travel-sized liquids fit in one quart-sized bag. #PeanutButter."
The reason for TSA rules
We reached out to the TSA for clarification and a spokesperson says that any item you can spread are included under this restriction. Any attempts to carry on more than 3.4 ounces of jelly, tahini or even hummus on the plane will be done at your own risk.
"Peanut Butter is considered to be a "spreadable," so it falls under the rule associated with Liquids, Gels and Aerosols," R. Carter Langston, press secretary for the TSA, tells TODAY.com in an email. "As such, its quantity is limited to 3.4 ounces in carry-on bags. As we frequently seek to remind travelers: If you can spill it, spray it, spread it, pump it or pour it — then it's subject to the 3.4-ounce limitation."
Although the TSA website titles the page on its website "Liquids Rule," the policy associated with liquids, gels and aerosols was established in 2006, following a terror plot that involved plans to take a homemade mixture of chemicals via sports drinks bottles onto at least 10 U.S. and Canada-bound flights from London.
Because of this incident, the International Civil Aviation Organization adopted the 3.4-ounce rule and it remains an international standard for carry-on baggage to this day. While you won't be able to pack a full-size jar of peanut butter in your carry-on luggage, you can place it in a checked bag, if you really need it.
While peanut butter is one item that social media users find debatably okay to carry-on, TSA agents have had to confiscate items from passengers pre-flight that are very much undebatable, including a chainsaw, a tube of lipstick that concealed a knife, a walking cane that concealed a sword, 80 pounds of marijuana, live eels, dead seahorses and finally, a handgun in a raw chicken, according to posts shared on the TSA's official Instagram account.
This story first appeared on TODAY.com. More from TODAY:
Copyright Today Digital Originals