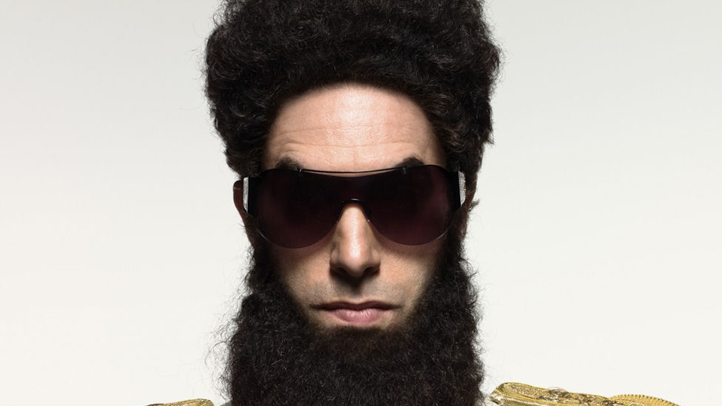 UPDATE: Oscar producers Brian Grazer and Don Mischer told Extra, through some stammering, that they're "thrilled" to have Sacha Baron Cohen at the Oscars Sunday. Pushed for further affirmation, Grazer said, "he'll be on the red carpet, I guess, dressed as The Dictator ... unless he changes his mind at the last minute." Mischer was more cautious: "Honestly, I've heard rumors but I haven't had a chance to keep up with all this."
UPDATE: Admiral Gen. Shabazz Aladeen, aka "The Dictator," aka Sacha Baron Cohen, has threatened "unimaginable consequences" if he's not allowed to sashay down the Red Carpet at Sunday night's Oscars.
video platformvideo managementvideo solutionsvideo player
Cohen called into the "Today" this morning in character to address the kerfuffle between him and the Academy after he was told that he would not be allowed to walk the red carpet dressed as "The Dictator," from his upcoming film of the same name.
"Normally I would be impressed by an act of cowardice by a faceless regime," he said. "But this is personal. I have issued them an ultimatum: They have until midday on Sunday to give me my tickets back. If they do not, they will see and face unforeseen and unimaginable consequences."
Late Tuesday it reported that Cohen, who has a supporting role in Best Picture nominee "Hugo," planned to use the Oscars' red carpet as a platform to promote his upcoming film, "The Dictator." His plan was then to change into a tuxedo and attend the show as himself.
This sent the Academy into a tizzy, as the last thing they want is for their show to be used as a way to promote movies, and so they allegedly rescinded his invitation/tickets.
U.S. & World
The day's top national and international news.
"Unless they're assured that nothing entertaining is going to happen on the Red Carpet, the Academy is not admitting Sacha Baron Cohen to the show," a Paramount rep told Deadline.
The Academy went into full damage-control mode, scrambling for a reasonable spin.
"We would hope that every studio knows that this is a bad idea. The Red Carpet is not about stunting," an Oscars spokesperson told Deadline, who rightly pointed to Trey Parker and Matt Stone's impersonation of J-Lo and Gwyneth Paltrow in 2000, and Ben Stiller's Na'vi outfit in 2010, as proof that they're not totally averse to such shenanigans.
Of course, Stiller was only fitted for a Na'vi costume after the Academy nixed skit in which Cohen would appear as a female Na'vi who would reveal to the world she was pregnant with "Avatar" director James Cameron's baby. As the Academy continued to tone the skit down, Cohen eventually threw in the towel, walking away from the whole affair.
"We haven't banned him," another Academy spokesperson told The Hollywood Reporter. "We're just waiting to hear what he's going to do."
This is not the first difference of opinion SBC has had with the Academy. In 2007, he was invited to present at the show, but said he would only do so in character as Borat, a condition the Academy would not grant.
A year after putting on a show that was widely reviled, you'd think the Academy would be thrilled to have one of the most popular comedians on Earth do a little shtick on the Red Carpet. Instead, the Academy continues to try so hard to maintain control of their one night of glory, like a bunch of old-line apparatchiks, that they are once again choking the life out of the event.
The whole night is dedicated to self-congratulations and self-promotion, why are they singling out Cohen for exclusion?