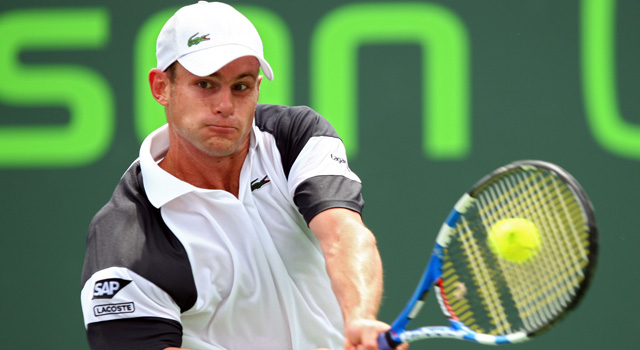 Andy Roddick reached the fourth round of the Sony Ericsson Open on Sunday after overcoming two set points in the tiebreaker to beat Dmitry Tursunov of Russia 7-6 (9), 6-2.
The fifth-seeded Roddick erased one set point with an ace and the second when Tursunov netted a forehand, and won the final three points in a grueling 75-minute first set. Roddick finished with 11 aces and faced only one break point.
Roddick, who improved his record this year to 25-4 and leads the ATP Tour in victories, lost his temper early in the set when mist fell and umpire Cedric Mourier declined to stop play. After losing his serve, Roddick slammed down his racket, picked it up and threw it again.
U.S. & World
The day's top national and international news.
"I basically was wondering how many more times we were going to play on a slippery court," Roddick said. "He said, 'Well, no one has fallen yet.' I said, 'Well, if that's a barometer, then we have a problem.' So I feel like my argument was just, but the way I went about it probably wasn't the best."
Roddick said he apologized to Mourier after the match.
Second-seeded Roger Federer also won, beating Nicolas Kiefer for the 11th consecutive time, 6-4, 6-1.
Roddick's next opponent will be No. 9 Gael Monfils, who rallied from two service breaks down in the final set to beat two-time Grand Slam champion Marat Safin 5-7, 7-5, 7-6 (3).
Roddick, Taylor Dent and the Williams sisters were the only Americans to reach the fourth round. No. 13 James Blake lost to No. 21 Tomas Berdych 6-4, 6-7 (3), 6-3.
Dent's opponent Tuesday will be Federer.
Top-ranked Serena Williams, seeking a record sixth Key Biscayne title, made the round of 16 by beating Peng Shuai 7-5, 6-2. No. 5-seeded Venus Williams defeated Anna-Lena Groenefeld 7-5, 6-3.
There were two upsets on the women's side, both involving last year's French Open finalists. No. 7-seeded Ana Ivanovic, the defending Roland Garros champion, lost to No. 25 Agnes Szavay 6-4, 4-6, 6-1. No. 2 Dinara Safina was beaten by unseeded Samantha Stosur 6-1, 6-4.
"I hardly did anything well," Ivanovic said. "I always was missing by a little bit, and got really down on myself."
"Just a disaster match," Safina said. "It was sad the way I played."
That left the women without three of their seven highest-seeded players. No. 3 Jelena Jankovic was eliminated Saturday night by Gisela Dulko.
Roddick missed many chances in the first set to make his match shorter. With the No. 25-seeded Tursunov serving at 5-all, Roddick failed to convert five break-point chances and finally sailed a forehand long to lose the 22-point game. He also was unable to convert his first three set points in the tiebreaker.
Roddick said gusty wind and high humidity made conditions difficult, so he was content to keep the ball in play and wear Tursunov down with a series of long rallies.
Copyright AP - Associated Press