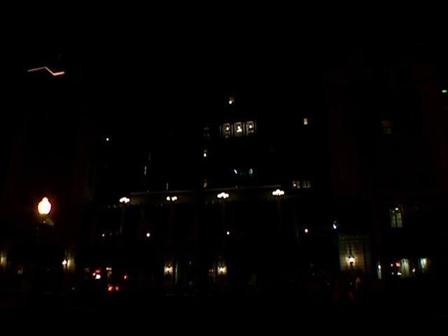 Maya Rudolph and Martin Short are separated by about two decades in age and 15 years in "Saturday Night Live" tenures. But they're bonded by a similar comic sensibility – and path.
Both are great mimics (Rudolph channels everyone from Liza Minnelli to Beyoncé. Short's imitation stable ranges from Katharine Hepburn to Jerry Lewis). Both have musical chops (see Rudolph's expert diva impressions and Short's comically funereal salute to the retiring David Letterman last year). Both performers' post-"SNL" journeys include scene-stealing parts in movies starring better-known peers (Rudolph in "Bridesmaids" and "Sisters," Short in "Father of the Bride" and "¡Three Amigos!").
But despite long and strong careers, neither Rudolph nor Short ever emerged, to put it in old-school show business terms, as a top banana.
U.S. & World
The day's top national and international news.
Now they're combining forces to tackle another entertainment throwback: the TV variety show. "Maya & Marty" arrives on NBC on Tuesday in a bid to revive the format and raise the duo's stardom to a level equal to their talent.
It's an inspiring, if unexpected pairing. Rudolph's promising 2014 variety special showed off her versatility and positioned her as a modern-day successor to Carol Burnett. Short's Broadway turn in his 2006 revue, "Fame Becomes Me," offered a rollicking package of new gems and under-appreciated greatest hits dating to his "SCTV" days.
The new comedy team first came together during last year's "SNL" 40th anniversary special, in a high-energy musical number pairing Short with Rudolph-as-Beyoncé. Their chemistry burst through, not only to the audience, but apparently to "SNL" creator Lorne Michaels, who is producing "Maya & Marty."
Rudolph and Short, who appeared to be having fun during the bit, share perhaps the most important trait to succeed in variety: an unabashed, infectious delight in being silly. That's something Short proves every time he dons Ed Grimley's high-waisted pants. Rudolph most recently displayed a similar knack for the absurd last week on "SNL" with her Sid Caesar-like double-talk impersonation of embattled Brazilian President Dilma Rousseff.
You don't have to know who Sid Caesar is to enjoy a new twist on an old TV form.
Jere Hester is Director of News Products and Projects at the City University of New York Graduate School of Journalism. He is also the author of "Raising a Beatle Baby: How John, Paul, George and Ringo Helped us Come Together as a Family." Follow him on Twitter.
Copyright FREEL - NBC Local Media