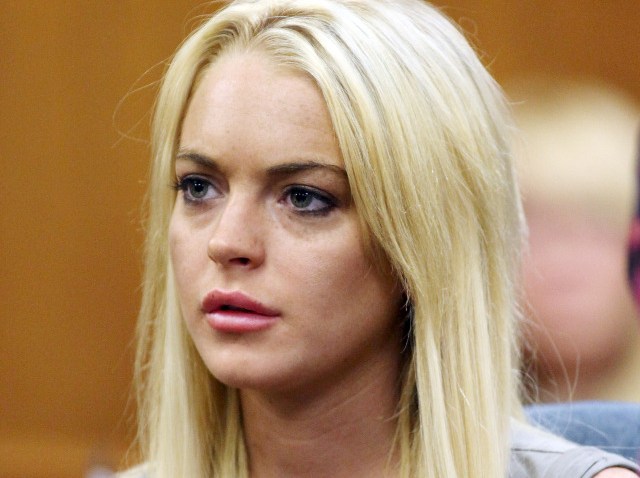 Lindsay Lohan is back in rehab, according to her father.
Michael Lohan confirmed Tuesday to NBC that his troubled daughter entered a rehab facility. He did not disclose the location of that facility.
"Four days after getting sprung from jail, the actress today entered a live-in drug treatment facility in Southern California," E! News reported earlier in the day, citing anonymous sources.
U.S. & World
The day's top national and international news.
On Friday, Beverly Hills Superior Court Judge Elden Fox ordered Lohan jailed for a month without bail for failing a drug test. Hours later another judge allowed the "Mean Girls" star to post $300,000 bail, and she was released.
The 24-year-old starlet has been ordered to wear an alcohol-sniffing SCRAM anklet, not to drink alcohol or go to bars, and must allow authorities to search her residence without a warrant and submit to more random drug tests.
She could face more jail time on Oct. 22, when she is scheduled to return to Fox's courtroom for another probation hearing.
According UsMagazine.com, Michael Lohan said his daughter Lindsay won't beat her drug problem if she continues treatment at Betty Ford:
"Look at the 'short' list of people who went to Betty Ford -- most, if not all, have relapsed," he tells Us. "I went there myself, and I will tell you, Betty Ford is a country club. They administer prescription meds and even put their patients on prescription meds. Once more, they don't have family therapy at all."
The star of "The Parent Trap" and "Freaky Friday" first ran afoul of the law on May 26, 2007, when she drove a Mercedes-Benz into a hedge along Sunset Boulevard in Los Angeles.
Two months later, she was arrested again in Santa Monica on suspicion of DUI and possession of cocaine.
She agreed to plead no contest and was sentenced to a day in jail and three years probation.
Her probation was extended by a year for not completing alcohol-education classes on schedule.
In July, she missing a required probation hearing before Beverly Hills Superior Court Judge Marsha Revel, saying her passport was stolen while she was at the Cannes Film Festival, and the judge sentenced her to 90 days in jail. She spent 13 days behind bars before being released again.
As part of her sentence, she was ordered to spend 90 days in an inpatient addiction treatment program. She was sent to UCLA's neuropsychiatric hospital for evaluation, held for about three weeks and released on Aug. 24.
Copyright CNS - City News Service