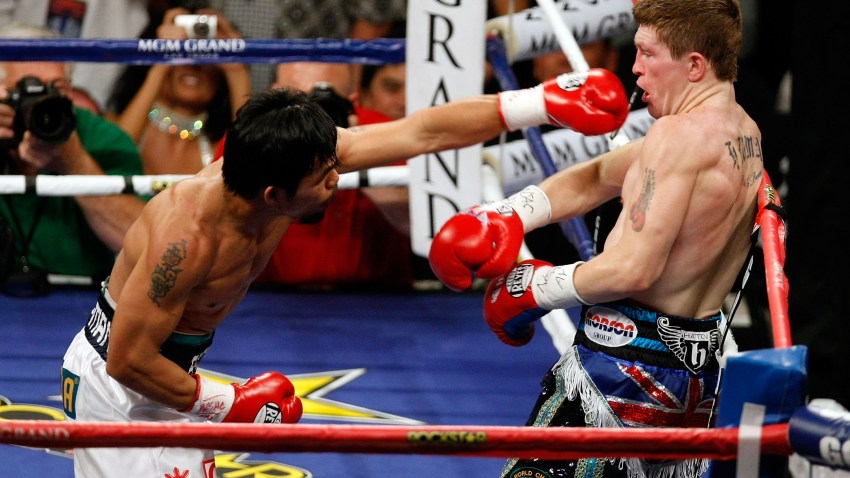 Manny Pacquiao was dominating. Ricky Hatton was left helpless.

Pacquiao cemented his claim to being the best pound-for-pound boxer Saturday night with a spectacular performance that ended with Hatton sprawled out on the canvas after a devastating left hand to the head late in the second round.

Coming off an overwhelming win over Oscar De La Hoya, Pacquiao was even better against Hatton, knocking him down two times in the first round before finally stopping him with a vicious left hand that dropped Hatton for good in the 140-pound title bout.

Referee Kenny Bayless took one look at Hatton and declared the fight over at 2:59 of the round.

"I didn't have to count," Bayless said.

Pacquiao needed less than half a round to figure out the onrushing Hatton, hitting him with a flurry of punches midway through the first round before putting him down for the first time with a right hook to the head. Hatton got up at the count of eight but Pacquiao landed another flurry and dropped him again just before the end of the round.

Hatton attempted to carry the fight to Pacquiao in the second round but was mostly ineffective as Pacquiao sized him up for a big punch. It finally came at the end of the round when he landed a left cross that flattened the English fighter.

"I'm surprised the fight was so easy," Pacquiao said. "He was wide open for the right hook. I knew he would be looking for my left."

Pacquiao was a 2-1 favorite, but few thought Hatton would go easily. His only loss came when he was stopped in the 10th round by Floyd Mayweather Jr., and he built a career and a reputation as a tough and aggressive fighter who wore his opponents down.

But he stood no chance against Pacquiao, whose punches came straight down the middle and landed with increasing frequency as the fight went on.

"I was just doing my job," said Pacquiao, who is a national hero in the Philippines and is fast becoming a hero among boxing fans. "I always try to do my best in the ring."

Pacquiao's best on this night quickly quieted a boisterous crowd of 16,262 at the MGM Grand arena, many of them who came over from England to sing and chant Hatton's praises. They didn't even get a chance to warm up, though, before Hatton was on the canvas for the first time of the night.

"The fight was no surprise to me," Pacquiao's trainer, Freddie Roach, said. "We know he always pumps his hands before he throws a punch. He's a sucker for the right hook."

Hatton finally rose from the canvas after several minutes as doctors tended to him and Pacquiao's corner celebrated. He walked from the ring with a wry grin on his face, while his fans serenaded him with one last verse of "Winter Wonderland."

"That's boxing," said Floyd Mayweather Sr., Hatton's trainer.

On the same day Mayweather announced his return to the ring with a July 18 fight against Juan Manuel Marquez, Pacquiao stole the undefeated former champion's thunder with a performance that was so lopsided it looked like a sparring session. The southpaw easily got away from Hatton's wild advances and just as easily hit him with punches that shouldn't come from a fighter who was fighting above 130 pounds for only the third time.

Pacquiao weighed 138 pounds for the fight to 140 for Hatton, and was fighting a bigger man for the second time in a row. But nothing seems to bother the boxer who is so popular at home that there is talk of him running for president some day.

Pacquiao (49-3-2, 37 knockouts) earned $12 million for the fight, while Hatton (45-2) was paid $8 million.

On the undercard, Mexico's Humberto Soto knocked Benoit Gaudet of Canada down early in the ninth round and then stopped him with a flurry of punches to retain his 130-pound super featherweight title. It was the second defense of the title for Soto, who improved to 48-7-2 with 31 knockouts, while Gaudet fell to 20-2.
Copyright AP - Associated Press