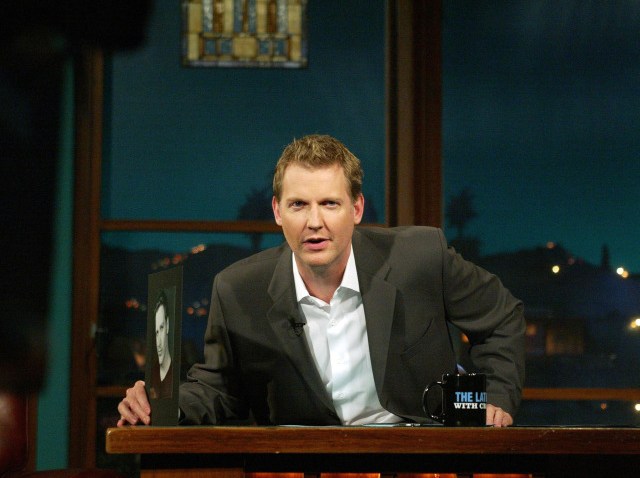 Much of Craig Kilborn's two-decade TV career has been defined by the acts that followed him.

Jon Stewart succeeded Kilborn on "The Daily Show" and made the program a pop-cultural touchstone that spawned a tag-team partner, "The Colbert Report," providing TV's most potent one-two punch of political satire.

In 2005, Craig Ferguson took the reigns of "The Late Late Show" from Kilborn and made his mark deviating from the traditional talk-show formula with a story-telling approach to monologues. Of course, Kilborn's initial big-time platform, ESPN's "SportsCenter," thrived before and after his 1990s stint.

Killborn, following a six-year absence from TV hosting duties, returned to the air Monday with "The Kilborn File," a comic half-hour news round-up on Fox that's more "Weekend Update" than "Daily Show." There also is an interview segment and a rapid-fire Bill Maher-like roundtable discussion called "The Power Panel."

The show got off to a solid, if unspectacular start Monday – the format is basically a hybrid of Kilborn's past gigs. He offered a couple funny lines – authorities' finding of insufficient evidence to pursue a masseuse's allegations against Al Gore spurred the comic to quip the former vice president "may have pulled off the rare double happy ending." Last week's marathon Wimbledon match was the "longest game on grass since Willie Nelson beat Snoop Doggy at Yahtzee," Kilborn noted.
He resurrected his "Five Questions" bit for guest Jeff Foxworthy, and stepped back as "Power Panel" members Martin Mull and Seth MacFarlane ably riffed. Sidekick Christine Lakin, though, was left without much to do.

Kilborn's alternately smart and smart-aleck approach to comedy doesn't always work for those of us who like our snark delivered with an edgy angst and occasional outrage (Stewart) or intelligent whimsy (Ferguson).

But in his return Monday, he managed to seem more confident than in the past while coming off as a little less smug – a mark, dare, we say it, of maturity.

That's a good sign for Kilborn, who has been somewhat impulsive about leaving good jobs in the past, giving other hosts a springboard to bigger fame. At least this time around, his name is in the title.

Whether or not "The Kilborn File" succeeds, Kilborn's challenge is to ultimately define himself by what he completes as much as by what he starts.

Hester is founding director of the award-winning, multi-media NY City News Service at the City University of New York Graduate School of Journalism. He is the former City Editor of the , where he started as a reporter in 1992. Follow him on Twitter.New York Daily News
Copyright FREEL - NBC Local Media