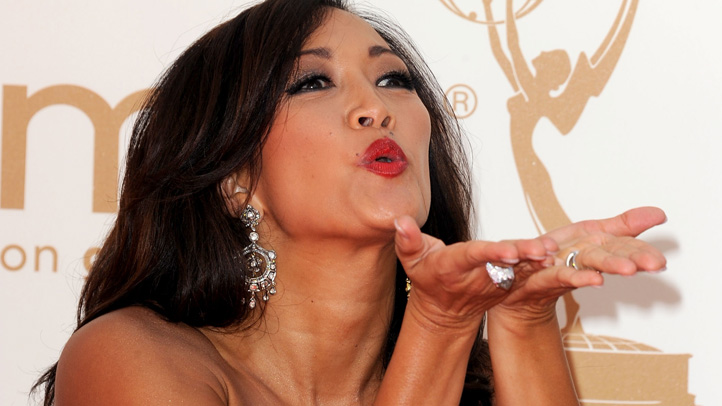 After many attempts to find love the traditional way, "Dancing with the Stars" judge Carrie Ann Inaba went online to meet the right guy – and it worked!
"I met him on eHarmony!" Carrie Ann told Billy Bush and Kit Hoover on Tuesday's Access Hollywood Live when asked about fiance Jesse Sloan.
VIEW THE PHOTOS: 'Dancing With The Stars' Season 13: Week 6 — Broadway
U.S. & World
The day's top national and international news.
"I was dating all these younger guys. I was like, 'Maybe I need to change it up a little,'" the 43-year-old star said.
While creating her online profile, the "DWTS" judge – who got engaged in March – initially kept her identity secret.
VIEW THE PHOTOS: I Do! Celebrities Who Got Married On TV
"I didn't put up a picture, I didn't put anything about who I was," she explained, adding that she was very forthright about what she wanted from a suitor. "I was like, 'You need to be sexy. I need to be attracted to you.' I really put exactly what I wanted. 'I love cats!'"
After laying eyes on Jesse's profile, Carrie Ann said felt something special.
"He was the one they sent me. It just felt familiar," she told Billy and Kit. "In his picture, I felt like I already knew him. He took a risk because he didn't know what I looked like or anything."
VIEW THE PHOTOS: Hollywood's Smokin' Hot Couples
After months of exchanging e-mails – and still not showing Jesse what she looked like or revealing who she was – Carrie Ann took the plunge.
"A few months later, I finally sent a picture. [It was] me in Hawaii with no makeup," she continued. "We finally went out [on] a supervised date. We went over to my friend's house. It was awesome!
VIEW THE PHOTOS: From On-Set Romance To Real-Life Love: Hollywood's Hottest Co-Star Couples!
"I can't believe I just shared that with you! [It's] because you guys have those warm eyes," she told Billy and Kit.
Though they've been engaged for months, the "DWTS" judge – who appears on the November cover of Natural Health magazine – said an actual wedding ceremony is a bit in limbo.
"I don't know, I'm not a good wedding planner, I suck… I don't want to plan," she said. "I'm doing private… I wanna do backyard and I wanna do beach."
A walk down the aisle might be on the backburner, but expanding her family is not.
"Trying for a baby, absolutely," she said with a smile. "Whichever comes first is fine. We don't have to be married to have the baby. My age at 43, I have to get moving on the baby. The wedding can come later."
Also on Tuesday's show, Carrie Ann weighed in on Chaz Bono's elimination and his claim that he was unfairly judged at times during the competition.
"I commended Chaz on what he was doing, because what he was doing was very important in the larger scope of life, but the scoring has to do with what they're doing dance-wise. We are able to separate the two, we can do that," she said. "We're able to look at the dance and just judge the dance, and not what they're going through personally… I actually thought we were pretty kind in general this year."
Adding, "Sometimes people get offended by what we say, it happens. We have to judge, our job is to judge."
Copyright 2011 by NBC Universal, Inc. All rights reserved.
This material may not be published, broadcast, rewritten or redistributed.
Related Content from AccessHollywood.com:
PLAY IT NOW: Access Hollywood Live: Carrie Ann Inaba Defends Her Fellow 'Dancing With The Stars' Judges
PLAY IT NOW: Is There Any Bad Blood Between Kendra Wilkinson & Carrie Ann Inaba?
More from Access: [ Carrie Ann Inaba Dancing With the Stars Reality TV ]
Copyright NBCAH - Access Hollywood