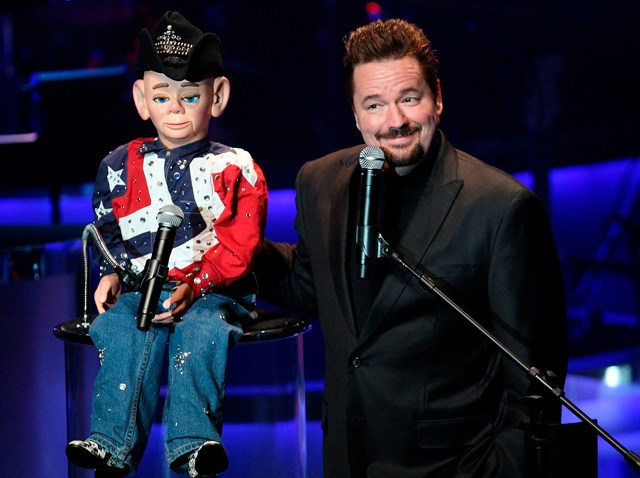 Terry Fator is on a winning streak.
The 45-year-old ventriloquist from Dallas won Season 2 of "America's Got Talent" in 2007, its M grand prize, a five-year 0M deal to headline a Vegas show, and has now won his girlfriend's hand in marriage, according to People.
VIEW THE PHOTOS: From 'Drumline' To 'America's Got Talent': Hot Shots Of Nick Cannon
U.S. & World
The day's top national and international news.
Terry wed Taylor Makakoa, 21, on Wednesday afternoon at Lily Of The Valley Chapel in Las Vegas. Taylor stars as her new husband's stagehand in his Sin City show at The Mirage, and is also a model and actress.
"We are so happy and looking forward to spending the rest of our lives together," the couple told the mag in a statement.
VIEW THE PHOTOS: Top 10 Reality Romances Gone Right
Taylor seems to have snagged quite a prize – the notoriously sharp-tongued Simon Cowell ("America's Got Talent's" executive producer) dubbed Terry "one of the most talented people on the planet" in a 2008 appearance on "The Oprah Winfrey Show."
Copyright 2010 by NBC Universal, Inc. All rights reserved.
This material may not be published, broadcast, rewritten or redistributed.
Related Content from AccessHollywood.com:
VIEW THE PHOTOS: Anything But Dreadful! Hot Shots Of Simon Cowell!
VIEW THE PHOTOS: Susan Boyle
PLAY IT NOW: Piers Morgan: Simon Cowell Is 'Irreplaceable'
PLAY IT NOW: Rihanna On Missing Katy Perry's Wedding
More from Access: [ Weddings America's Got Talent Las Vegas ]
Copyright NBCAH - Access Hollywood