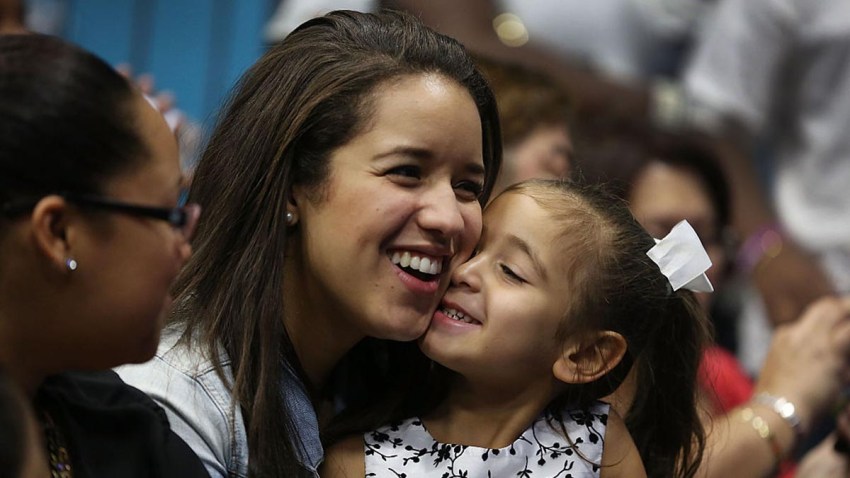 Do you have any real children? When did you rescue her? Can you tell me about your adoptive daughter?
Many adoptive families hear questions like these all the time. While the people who ask them often mean well, their words can be hurtful.
"Most of the time, people are not malicious, they're just curious. But there's a lot of power in the language that people use. Words matter, especially for children," said Lisa Dominguez, the director of clinical services at C.A.S.E., the Center for Adoption Support and Education.
Speaking ahead of National Adoption Day on Nov. 18, Dominguez advised people who want to support adoptive families to listen.
"Defer to them and follow their lead," she said. "Just like anything, if it's something you haven't experienced, it can be hard for you to know."
Don't give adoptive families unsolicited advice, either, she said. If a child has a history of abuse or neglect, the parents' techniques can be different from those of other parents. Don't judge, Dominguez said.
Here are a few questions and phrases Dominguez said can be uncomfortable for people touched by adoption:
"Real parent": Asking someone about their "real" parent, family or child can be hurtful. "There's no such thing as a 'real family' or a 'fake family.' There are just multiple kinds of families," Dominguez said.
"Adoptive child": Instead of asking someone about their "adoptive child," just ask about their child. Why make someone feel like a child they adopted is less important than one they had through birth?
"Rescuing" a child: Language like "rescue" is better suited for animals, not people.
"Gotcha Day": Many adoptive families celebrate the day a child was adopted, and some have begun calling it the child's "gotcha day." Dominguez said she respects other families' wishes but that she is personally not a fan of the term. "It feels somewhat casual. To me, it feels like a possession, as opposed to a child."
C.A.S.E., which is based in Burtonsville, Maryland, outside Washington, D.C., created a program called "W.I.S.E. Up!" that addresses how members of adoptive families can respond to insensitive comments. "W.I.S.E. Up!" is an acronym that says people who get rude questions about adoption can:
Walk away or ignore what is said or heard, [say]
'It's private and I don't have to answer' it,
Share something about my adoption story or
Educate others about adoption in general.
C.A.S.E. has taught the program throughout the United States and also in England, Scotland and Australia. It perhaps needs to be adapted for different cultural contexts.
"The British families think walking away is very rude," Dominguez said.