County leaders in rural areas of Virginia say they will refuse to enforce any gun reform laws enacted by the newly elected Democratic majority.
The Appomattox County Board of Supervisors passed a resolution Monday declaring the county a "Second Amendment sanctuary."
"Sending a message to our legislators that hey, we are a sanctuary county and we do not want our rights to be infringed upon in regards to bearing arms," Appomattox County Board Chair Samuel Carter told News4 by phone.
Other counties that have declared such sanctuary resolutions include Campbell, Carroll, Charlotte and Patrick. Franklin and Pittsylvania counties are voting on their respective resolutions Tuesday night.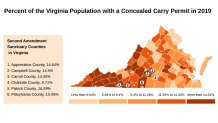 "Counties are saying, 'Look, we are not going to enforce any unconstitutional gun laws in our jurisdiction,'" Phil Van Cleave, with the Virginia Citizens Defense League, said.
Carter says he recognizes the resolution does not carry the force of law.
Local
Washington, D.C., Maryland and Virginia local news, events and information
But Van Cleave argues some sanctuary counties might refuse to follow new gun rules.
"A sheriff is a constitutional officer, however, he can take the lead of the county if he wishes and say, 'We're not enforcing any of this stuff.' And some sheriffs are going to do that," Van Cleave said.
Democratic Del. Ken Plum, who represents Reston, filed a bill in the Virginia General Assembly Monday that would require universal background checks for any gun sales or transfers.
If the bill passes, anyone who sells a firearm to antoher person without obtaining a background check would be guilty of a felony, according to the bill.
Plum says the gun sanctuary declarations mislead residents.
"The notion that you can have a locality void a state law by declaring yourself a sanctuary simply is not going to hold up in court," Plum said.
While such sanctuary resolutions are not expected in Northern Virginia, gun rights activists say they believe at least 20 counties in the Commonwealth will sign on this year.