The mark of a vandal remained Saturday night at the Lincoln Memorial after two days of cleaning.
U.S. Park Police have surveillance video of the vandal who defaced the Lincoln Memorial Friday, and are now seeking a person of interest, sources tell News4.
The memorial was closed early Friday morning after green paint was found splattered on the base and lap of the statue of Lincoln. U.S. Park Police investigated the act of vandalism and National Park Service maintenance crews are cleaning the mess.
About 12 hours later, the memorial was reopened to visitors. Some paint remains and crews plan to continue cleaning this weekend and Monday. Power washers successfully removed much of the paint, but it's been a struggle to remove it from the marble portion of the monument.
The memorial closed Saturday while President Obama delivered a speech at the Korean War Veterans Memorial nearby.
A visitor saw the paint on the statue and on the floor around it just before 1:30 a.m. Friday. No words or symbols were written on the statue, News4's Megan McGrath reported.
Morning joggers, who frequently run up and down the memorial's stairs as part of their workouts, found their path blocked off with yellow tape Friday morning.
"I have no idea who would want to do something like that," said Scott Arndt, who was out on his morning run shortly before 6 a.m. "To me, it's defacing America. It's not just defacing the Lincoln Memorial, but it's something against all of America."
"People come from all over the world, and to show that they can't get into one of our national landmarks because somebody vandalized it is kind of a black mark on our country," said jogger Keith Gillespie.
Visitors flocked to the memorial, hoping to get a close look at one of Washington's most famous attractions.
"Everyone got up so early, and we were trying to take photos and go inside and take a look, but we were told we cannot go in. It was quite disappointing," one tourist told McGrath.
Another tourist said, "They just desecrated one of our most memorable monuments, our president, you know...I'm just so surprised. I'm surprised. Why would they want to do that?"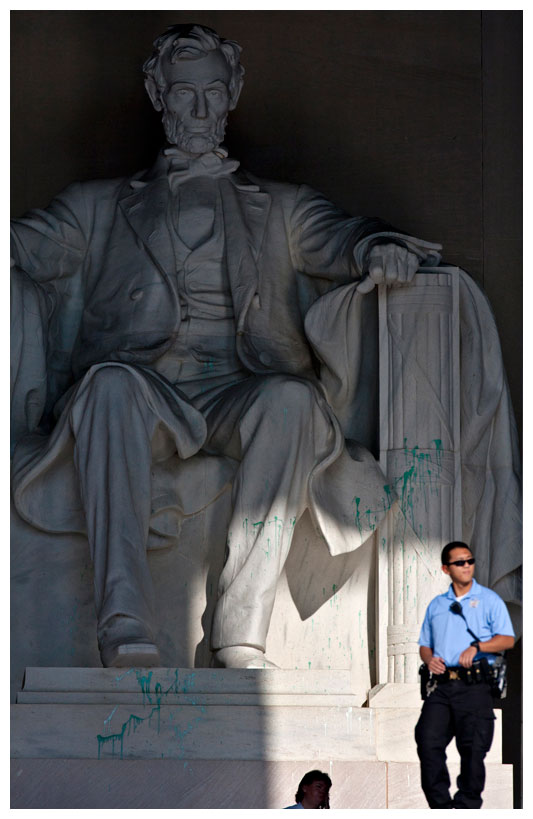 Investigators spent the morning snapping photos while a police dog sniffed around, looking for the suspect's trail.
The cleaning, meanwhile, is being performed by a special historic preservation team. Fortunately, there is no permanent damage.
"I can tell you it is on the base of the statue. It is also on the lap of the statue. It is not solid, let's put it that way. It is a splatter," said NPS spokeswoman Carol Johnson.
This is not the first time vandalism has been reported at the site of one of the National Mall's memorials.
Local
Washington, D.C., Maryland and Virginia local news, events and information
Back in 2007, an oily substance was found on the memorial wall of the Vietnam Veterans Memorial. Police determined the case to be an act of vandalism and not an accident, The Washington Post reported. The removal process took weeks to complete.
Two additional incidents of vandalism have been reported at the Vietnam Veterans Memorial in the past. In 1993, the directory stands at the entrance of the memorial were burned, and a swastika and scratches were found etched in two of the memorials panels in 1988. Both panels were replaced.
Other than those incidents, Johnson said she cannot recall any other cases of vandalism at the National Mall.
The Lincoln Memorial, which was dedicated in 1922, is open to the public 24 hours a day.
U.S. Park Police Union President Ian Glick released the following statement:
"This type of reprehensible act is unfortunate but it did not permanently damage the memorial and this incident further underscores the need for the National Park Service to provide more funding and more personnel so as to provide a higher level of deterrence through officer presence. We are fortunate that this deplorable act can be remedied but caution that we are lucky that this wasn't an act of terrorism."
UPDATE: This story has been corrected from a previous version.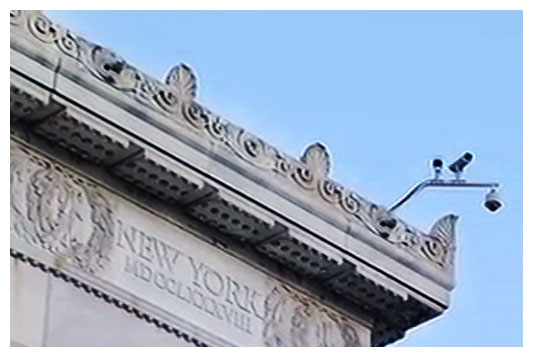 MORE ON NBCWashington.com: