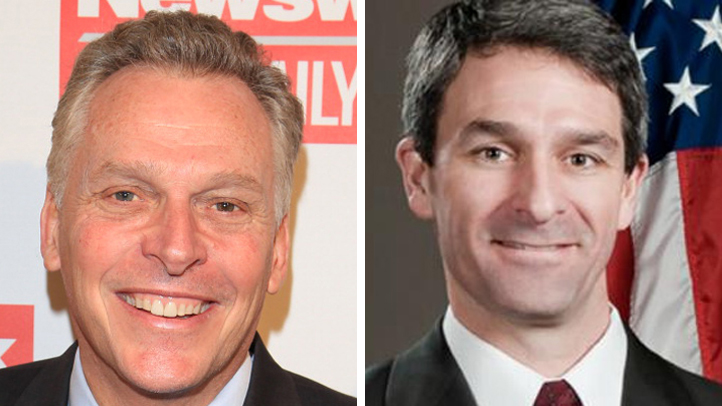 The focus of Virginia's governor's race shifted briefly away from scandals Monday night as Republican Attorney General Ken Cuccinelli and Democrat Terry McAuliffe pledged to devote more resources to mental health services.

Speaking at a forum sponsored by mental health groups, the candidates pledged to make the topic a top priority but differed on how they would do it. McAuliffe received enthusiastic applause from an audience packed with mental health advocates when he said he supports expanding Medicaid under the Affordable Care Act to cover about 400,000 more low-income Virginians. About 80,000 of those would receive mental health services.

Cuccinelli said he continues to oppose Medicaid expansion until the federal government gives Virginia more control over the program. The General Assembly last winter appointed a commission and authorized it to expand Medicaid only if certain cost-saving reforms are approved by the federal government.

However, Cuccinelli pledged to find money to expand mental health services, partly by shifting some Medicaid money from other areas. He said it's a message he delivers to other groups, not just mental health advocates, and he plans to stick to it no matter how his other initiatives fare.

"Mental health will be a priority for me regardless,'' he said.

McAuliffe said Medicaid expansion is key to improving mental health services, and he doubted Cuccinelli could cut taxes by $1.4 billion as he has proposed and still boost funding for mental health.

"I'd love to promise you a $1.4 billion tax cut,'' McAuliffe said. "But it's fiscally irresponsible.''

Cuccinelli also said he would push for incentives in higher education and nursing schools to produce more psychiatrists and mental health nurse practitioners.

"This shortage is one of the most serious challenges we face,'' he said.

McAuliffe called for increased training for police and jailers in dealing with mentally ill people. Cuccinelli recently received U.S. Treasury Department approval to spend $3.5 million of Virginia's share of a national Medicaid fraud settlement for that purpose.

The forum was the first time the men shared a venue since details emerged late Friday of a federal investigation into McAuliffe's old electric-car company and a sister firm specializing in obtaining green cards for major overseas investors.

The widening Securities and Exchange Commission probe of GreenTech Automotive, where McAuliffe resigned unannounced as chairman in December after saying he'd run for governor, and Cuccinelli's connections to Jonnie R. Williams Sr., head of a nutritional supplements firm that showered Cuccinelli and Gov. Bob McDonnell and their families with thousands of dollars in gifts, have occluded policy positions of both candidates. McDonnell's relationship with Williams is the subject of a federal investigation.

After speaking to the forum, Cuccinelli told reporters that the new GreenTech developments illustrate why McAuliffe should follow his lead and release his old tax returns. McAuliffe told reporters a few minutes later that his tax returns ``have nothing to do'' with GreenTech.

Earlier Monday, Cuccinelli called for McDonnell to convene a special session of the Virginia General Assembly to deal with the loopholes in the state's financial disclosure and public ethics laws through which McDonnell justified not disclosing loans and gifts from Williams. Cuccinelli received about $18,000 in gratuities from Williams and his company, Star Scientific, some of which went unreported for several years until he amended four years' worth of statements of economic interest in April.

Cuccinelli told reporters after the forum that citizens "expect some action'' on ethics changes, and he was disappointed McDonnell rejected the special session idea.

"The political will is there to do it,'' he said of an ethics revamp.

McAuliffe called Cuccinelli's suggestion "another gimmick by the attorney general,'' and said Cuccinelli should follow McDonnell's example and return the $18,000 in gifts he received from Williams.

Meanwhile, even before Labor Day, national groups allied with the opposing campaigns have already dumped millions of dollars into televised smear campaigns, including a 30-minute anti-McAuliffe movie produced by the conservative organization Citizens United playing online and on some tiny-market television outlets.

Copyright AP - Associated Press