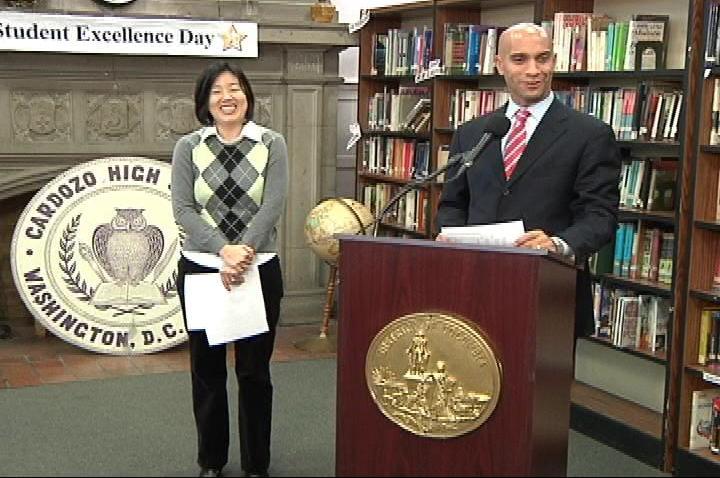 Anyone who thought that Mayor Adrian Fenty would throttle back his version of school reform can forget the thought.
Last week, Schools Chancellor Michelle Rhee announced a new round of firings that rattled the school system again, 10 months after more than 275 teachers were fired in a controversial budget move.
"Now we have a better alignment between how we are performing [for the children] and how we are evaluating our teachers," Rhee said in an interview with NBC4.
Asked if she thought the fast-paced reform efforts were "too much" for the city to handle, Rhee was her usually blunt self.
"I think if you look at the way the District had performed for kids prior to the mayoral control," she said, "I think anybody would say that there's no way you can move fast enough to make sure we're putting a great teacher in front of every single child. … We can't do that fast enough, in our opinion."
Another 550 or more teachers were rated "minimally effective" and face being fired next year if they don't improve. Those teachers will lose any "step increases" in their pay for the coming year.
On Friday's WAMU "Politics Hour" at noon, Washington Teachers' Union general vice president Nathan Saunders agreed with an angry caller that there is a racial aspect to Rhee's dismissal of the teacher workforce, which is majority African-American.
When Saunders, who is African-American, said there was truth in what the caller said, we asked him specifically if he thought race was a factor.
"There obviously is," Saunders said. He went on to say that there is "a situation where you have a significant group of the African-American middle class being disrupted. In the African-American community, for so very long, teachers and preachers were revered as leaders in the community. And many of these teachers are in the winters of their careers. They are veteran teachers, after serving 30 and 40 years, and this program definitely has an impact not only on their personal lives, but also on the community in which they live."
It doesn't seem that Saunders' answer actually accuses Rhee of racism, but that was the clear implication. In her NBC4 interview later, Rhee flatly rejected even the suggestion her moves are racially motivated.
"That's just not correct," said Rhee. She said the fired teachers reflected age and seniority groups across the school spectrum.
• Impact on the Mayor's Race?
Rhee has been sharpening her own message about the change in the schools as the city gets immersed in the mayor's race.
She says that when she arrived back in 2007, only about 8 percent of eighth-graders were on grade level in mathematics, but 95 percent of the adult teachers were rated as doing an excellent job. She said that just didn't compute, and that she and Fenty are out to change it.
Obviously, Fenty is strongly backing his chancellor. The mayor gave an emotional response recently at the Hotel Association of Washington, D.C., mayoral forum. He told NBC4 that Rhee is remaking what everyone agreed had been a flawed school system for decades.
Mayoral opponent Vincent Gray spoke to Rhee extensively last Friday when she informed him of her latest personnel moves. Asked for a comment about the new developments, Gray's campaign office said on Friday he was reviewing the announcement and its impact on the school system.
He had made no further public comment as of our deadline.
• Fighting Poverty
A new nonprofit with its sights on poverty problems has grown to 100 affiliated organizations. This past week it called on candidates in this year's elections cycle to create new plans to address poverty.
Defeat Poverty DC has submitted a questionnaire to all candidates, saying poverty had its biggest jump in 15 years because of the bad economy.
To check out the growing membership, see the website at defeatpovertydc.org.