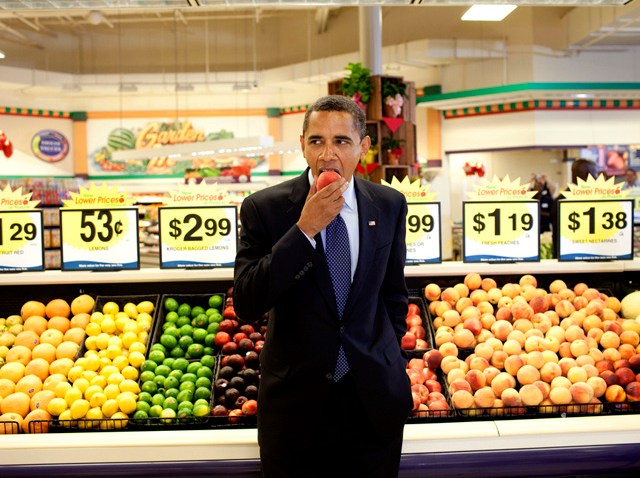 In between two wars, some new saber rattling by North Korea and -- oh, yeah -- the still limping economy, President Barack Obama is to sit down Wednesday for lunch with D.C. Mayor-elect Vincent Gray.
Maybe they'll talk about the 12 stitches Obama got from a pickup basketball game. The mayor-elect is pretty good at basketball.
Maybe they'll talk about how Obama needs to show a more human side to the cold calculations he has to make. The mayor-elect knows something about defeating a rival who failed to do this.
Maybe they'll talk about how the president in nearly two years basically hasn't found time to do anything locally but go to sporting events and restaurants. The mayor-elect knows a place or two the president might visit.
So on Monday, we asked Gray about his lunch plans with the president. You might be surprised. Gray said he intends to bring up the massive transformation of the old St. Elizabeths Hospital grounds in far Southeast into the sprawling headquarters for the U.S. Department of Homeland Security.
Gray and other city officials worry that the hyper-secret facility will turn its back to the local communities along Martin Luther King Jr. Avenue. Gray doesn't just want Homeland Security to be a good neighbor; he wants jobs for District citizens. Maybe he'll invite Obama to his Dec. 13 jobs summit at the Reeves Center.
D.C. Del. Eleanor Holmes Norton has fought to include local contractors in the construction and is pressing for permanent jobs to go to city residents.
We say you might be surprised at the mayor-elect's agenda because build-out of the security headquarters is moving rapidly. If you haven't driven along I-295, you haven't seen how whole hillsides have been eaten away by bulldozers.
It appears the federal officials are preparing the site so that it could have exclusive offramps. That means that thousands of workers could drive into the facility and return to the expressway without ever setting foot on MLK. And that means there wouldn't be any economic development of restaurants, shopping or housing to serve those Homeland Security workers.
And that would be a shame.
• D.C. Voting Rights
Mayor-elect Vincent Gray is expected to press at least a little for the District to have voting rights in Congress. But that issue has been dead ever since city leaders refused to allow gun amendments on the compromise bill that then-Rep. Tom Davis, R-Va., crafted.
Ilir Zherka, who runs the lobby group DC Vote, tried to put a positive face on the situation. "We will not give up just because the fight is getting harder," he said.
But with the U.S. House of Representatives in Republican hands, and Davis out of Congress, there is zero hope the voting rights issue will come up again anytime soon.
And we may be talking a decade or longer. Zherka pointed out that national elections have swung dramatically. "None of us know what lies in store for the next two years, much less the next 10," he wrote.
No, we don't know. But the case for optimism seems mighty thin gruel. You wouldn't want it for lunch.
• Federal Paychecks
There are about 200,000 federal workers inside the Beltway, not counting military personnel. Most of the civilian workers learned Monday that Obama is freezing their pay as part of a budget-cutting effort. Obama is said to have done it in part to get ahead of Republicans who have the federal bureaucracy in their sights.
The federal workers are just the first to feel the effects of the coming partisan battles between the Democrats and the GOP.
Rep. Jim Moran, D-Va., warned that the pay freeze was tantamount to unilateral surrender and warned that the Republicans won't be satisfied.
"This move will only embolden the opponents of civil service, those who got elected claiming the federal government is broken and will now set about trying to break it," Moran said Monday.
Moran said the two-year pay freeze would exacerbate a "brain drain" and penalize hardworking employees.
• And Finally
Were you among those Thanksgiving travelers who were patted down by security agents at area airports? Some complained bitterly of agents invading privacy. But others scoffed that the war on terror requires that we give up this level of freedom.
We think it requires better thought on the part of security types. More sophisticated mechanical screening is nonintrusive and nonselective.
Let's leave the laying on of hands to other, voluntary ceremonies.