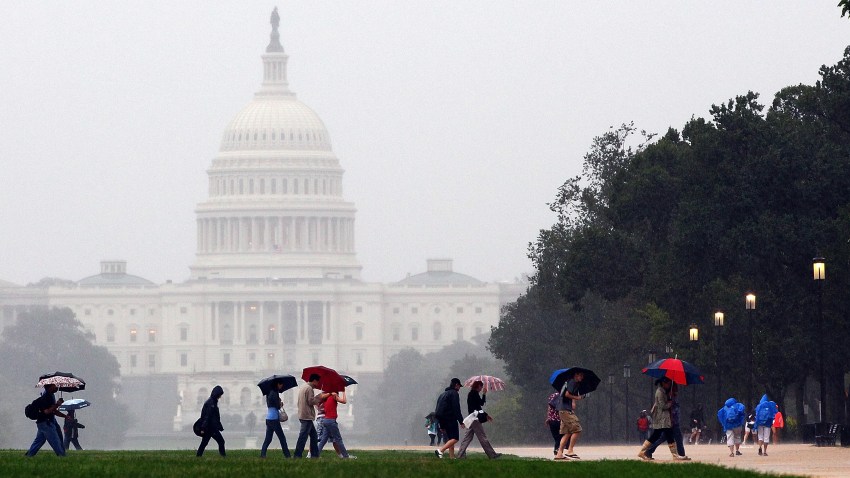 We wrapped up our hurricane work for television early on Sunday, retiring in the afternoon to the Cantina Marina, an outdoor bar and restaurant on the Southwest Waterfront.

Sitting on the upper deck, we ordered a crab cake and not one, but two cold Coors.

The first was just a way to exhale from the frenzy of the past week.

The second bottle was a silent toast to the public service workers, the emergency responders and, yes, the journalists who tracked and responded to the hurricane and the earlier earthquake.

Some notes we made along the way:

• Earthquake, No. 1.

This region proved once again that it's everyone for him or herself in a major disaster or terrorist strike.

It's just abundantly clear now that without extraordinary efforts, few people are going to "shelter in place" if they believe they can get out and get home.

"People are just going to leave," said Transportation Department Director Terry Bellamy. " … Any city in the world. They're just going to do it." Yet Bellamy said the city will continue its efforts to make "sheltering in place" a reality.

But maybe the region's effort ought to focus on organized traffic evacuation, not just urging worried parents, partners and guardians to sit tight.

There appears to be no coordinated effort in the District (or 'burbs) to have police, traffic control aides and other emergency personnel staff critical intersections or choke points.

"It's another missed opportunity," said Greater Washington Board of Trade President Jim Dinegar. Despite the decade that's passed since the horrors of 9/11, this region is still talking about and planning coordinated emergency responses. And people are still pouring into the streets.

• Hurricane, No. 1.

No sooner had the sun come out Sunday than some people were second-guessing the decision to postpone the Martin Luther King Jr. Memorial dedication. It wasn't that bad here, they said, eople would have put up with the wet ground, et cetera, et cetera.

It's important to say that such sentiments are not even accurate in hindsight. They're just wrong.

There were 30,000 folding chairs sitting out in a wide-open field. They would have been tossed around like toys in the winds. The ground was saturated. It would have been dangerous. People had to get back south and to the Northeast ahead of the storm or risk being stuck here. As heartbreaking as the decision was to postpone, it was the right one.

• Earthquake, No. 2.

After the earthquake hit, the big question was whether the schools would open the next day. Inspectors were out looking at all 126 operating D.C. school buildings.

At 10:59 p.m. -- a minute before the 11 o'clock news -- journalists were told that all but three school buildings would open on time. Then somewhere around 4 a.m., everyone was told that all the schools would be closed.

One of the toughest things to do in a crisis is to get consistent, accurate information out to the public and to those clamoring journalists. In the age of Twitter, snippets of information travel fast.

If the politicians close the schools, parents scream. If they leave them open, parents scream that their kids might be unsafe. If they change their minds and the decision, they get it from all sides.

The main thing for politicians is to know what you know and then tell it. The public will accept uncertainty if you're clear that you're trying.

• Hurricane, No. 2.

What would you do with five sandbags? One person sent me a message that five bags "would make a nice coffee table."

We ask because the city's Department of Public Works expended a great deal of effort to pass out 7,000 sandbags to the city, but it gave out only five bags per person. First the lines seriously backed up when the city first started in Southeast near the baseball stadium. Some people waited for more than an hour for their five bags.

The next day, the sandbag effort was moved to RFK Stadium, where the city could accommodate the long lines. But still, it was only five bags per vehicle.

Most homes have two entrances and many have basement-level windows. How five bags really helped, we're not sure. That's one of the reasons we live on the second floor.

• A disaster P.R. move?

As the city was roiling from the earthquake and the hurricane, D.C. Council Chairman Kwame Brown was sending out news releases about the events. But he wasn't showing up at any of the mayor's multiple news conferences. When your Notebook tweeted about this absence, Brown acknowledged he was out of town, saying he was at a staff member's wedding.

• A final word.

Former D.C. Council member Nadine P. Winter has died. She was 87. Winter was elected in 1974 to serve on the first council under home rule. She served Ward 6 from 1975 until 1991. Her body will lie in repose at the John A. Wilson Building Thursday night from 5 p.m. to 7 p.m.

Winter was a feisty and colorful character. She had a big smile that any caricaturist would love. She'd flash it whether she was angry or happy.

Winter moved to Washington in 1947 and was an early housing activist for seniors, youths and the homeless. She fought for rent control and homeowner rights. She twice served as one of the city's three formal electors in presidential contests. Our condolences to her family.