Tens of thousands of people demanded President Donald Trump release his tax returns in Tax Day protests across the country on Saturday -- including thousands of protesters who marched in Washington, D.C.
Protesters chanted, "Shame! Shame!" over and over again as they walked along Pennsylvania Avenue. Demonstrators stopped in front of the Trump International Hotel for a time, where they booed, shouted and some raised their middle fingers.
Others played drums, shook maracas and played the saxaphone in front of the hotel in an effort to make noise and bring attention to their march.
Protesters held signs that read "Chicken in Chief," "I Care," "Show Taxes Now!," and "Tax Time You Too!!"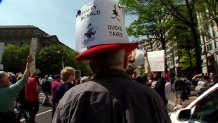 "I think the American people have the right to see Donald Trump's tax returns. I think it's a question of transparency," said Deirdra Donahue, a Bethesda, Maryland, woman participating in the protests.
One of Trump's sharpest critics in the House spoke to protesters at the U.S. Capitol just before they set off on their march to the National Mall. Democratic Rep. Maxine Waters, of California, said there's nothing to prevent Trump from releasing his income taxes and that "the simple truth is he's got a lot to hide."
Local
Washington, D.C., Maryland and Virginia local news, events and information
"We feel it's important because we don't know Donald Trump's ties to foreign governments or foreign business interests or even domestic business interests," said protester Matt Wahila. "We don't know what's in his taxes. We don't know who he owes money to, but we do know that his policies and his proclamations so far have been against the working class, the American people and we just want him to be held accountable."
Copyright AP - Associated Press